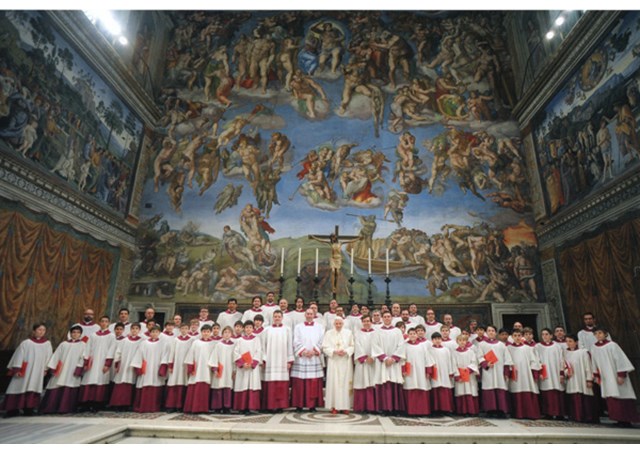 (Vatican Radio)  Since 2012, the Sistine Chapel Choir has been engaged in an ongoing project of ecumenical encounter. Over the last three years, it has performed with the choirs of Westminster Abbey (for the Feast of Saints Peter and Paul, 2012), the ThomanerChor of Leipzig (2013) and the Orthodox Patriarchate Choir of Moscow (2014). 
This year, for the Feast of Saints Peter and Paul on 29 June, the Vatican's choir will be joined by the Anglican choir of New College, Oxford.
Together, the two choirs will offer a concert in the Sistine Chapel on Saturday 27 June at 6pm for members of the Roman Curia and for the Heads of Mission of the Embassies accredited to the Holy See.  Works from Tallis, Palestrina, Gibbons, Purcell and Parry will be performed. 
On 29 June, the two choirs will sing the Eucharistic Celebration for the Solemnity of Saints Peter and Paul, presided by the Holy Father in St Peter's Basilica. The direction of the choirs for these two events will be shared between the Master of the Choir of New College Oxford, Robert Quinney, and the Master of the Sistine Chapel Choir "Sistina", Massimo Palombella.
In preparation for the June performances in Rome, the Sistine Chapel Choir will travel to Oxford to rehearse with the Choir of New College on 28 May. The choir will subsequently travel to London to join the Choir of Westminster Abbey at the invitation of the Organist and Master of the Choristers, James O'Donnell to sing Anglican Choral Evensong on Saturday 30 May at 5pm. The following day, at 6:30 p.m. on Trinity Sunday 31 May at Westminster Abbey, the choir will give a concert featuring music written for Papal Celebrations, celebrating the great composer of the Sistine Chapel, Giovanni Pierluigi da Palestrina.
The Sistine Chapel choir believes that "a serious and honest mutual appreciation of both our cultures is necessary in the search for common roots. This process provides a solid platform for ecumenical dialogue respecting diversity and identity."
"In singing together the common heritage of our unique praise of God, we express our willingness to walk together and anticipate in history that desired unity, which we all seek and which by the gift of God we will achieve."