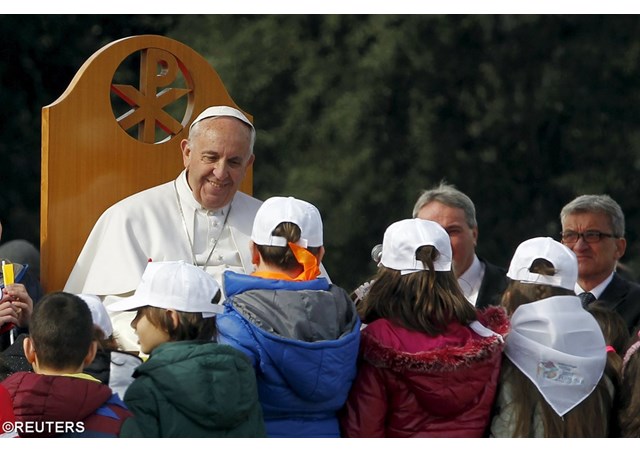 (Vatican Radio) A conference discussing ways to fight and prevent the scourge of child sexual abuse is taking place Wednesday in Paris.
The 2015 Congress organised by the International Catholic Child Bureau (BICE) is bringing together partners, people in the field, representatives from the government, civil society and the media to discuss the question of sexual abuse of children and learn more about its causes and consequences.
Monsignor Robert Oliver, Secretary of the Pontifical Commission for the Protection of Minors, which is charged with advising the Holy Father on the protection of children, the prevention of abuse, and the pastoral care of victims of abuse in the Catholic Church, addressed the Congress on Wednesday morning.
He spoke to Lydia O'Kane about his intervention saying, it was about "our Commission the new Pontifical Commission that Pope Francis has put together, to help them to understand our work and in many ways that our work actually is quite parallel to what they're doing, particularly emphasis on policies and developing guidelines and working with local churches."
Listen to Lydia O'Kane's interview with Monsignor Robert Oliver
Asked about how collaborations with institutions and groups worldwide on the issue of child protection are progressing, Monsignor Oliver said , "quite well… We've been able to meet with and to develop relationships with organisations from many different faith groups, many government organisations, many non-government organisations. So, these relationships are obviously just at the beginning stage, but through our work with Episcopal Conferences and Conferences of Religious… these contacts enable us to have a presence…"
Recently, the Vatican published the Statutes for the Pontifical Commission for the Protection of Minors, which the Monsignor described as "giving a structure to the organization, so they're quite important." He added that, "the Holy Father was quite generous when he approved them because he gave us a three year experimental period now,  with this set, so as we're developing our work it will give us a chance to work even more on putting together the best ways for the Commission to be structured and put it to work."
The BICE Congress takes place every two years and focuses its' attention on a particular issue regarding child rights. This year the issue of child sexual abuse is under the spotlight.
BICE is part of an international network of more than 50 organizations around the world committed to the defence of the dignity and rights of the child. It is also recognised by the Holy See.
The organisation is on the front line in the fight against sexual abuse and has put in place a wide reaching program in place that promotes a caring and safe environment for children, while supporting the child victims of abuse.
This program takes place in 23 countries in Asia, Latin America, Africa and Eastern Europe.