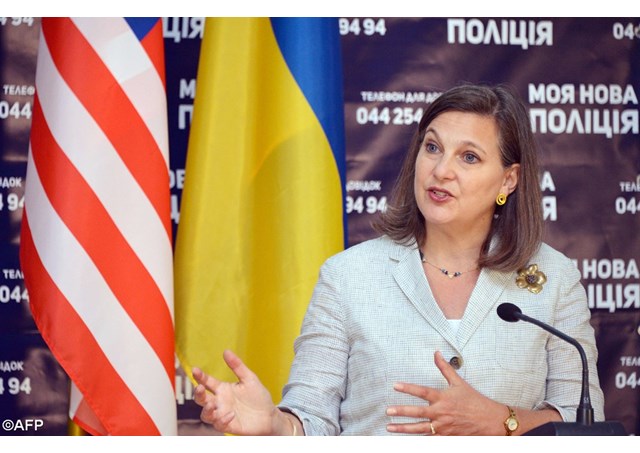 (Vatican Radio) U.S Assistant Secretary of State Victoria Nuland has hold tense talks in Moscow as part of efforts to help solidify a shaky cease-fire in eastern Ukraine, amid rising tensions over two captured Russian soldiers and detentions of ethnic Tatars in Crimea. 
Listen to Stefan Bos' report:
Nuland told reporters that the United States wants to support efforts to resolve political and humanitarian concerns in Ukraine's rebellious east, but insisted there were no indications that Kiev aims to resume offensives against pro-Russian separatists.
Yet, Deputy Russian foreign minister Grigory Karasin was quick to say that he found her comments "unconvincing". And there was no sign of any imminent breakthrough on issues, ranging from Ukraine to Syria, that have sent Washington-Moscow relations to a post-Cold War low following Monday's meeting in Moscow.
The East-West tensions have deepened after Ukraine released footage of one of two alleged Russian servicemen it claims to have captured. Kiev accuses the pair of being part of a special forces group that killed and wounded Ukrainian troops in eastern regions – and says they will be prosecuted for "terrorist acts."
RUSSIAN TROOPS
The Western-backed government also views it as evidence that Russian troops are active in eastern Ukraine and supporting separatists. Moscow denies the charges, saying those fighting in the east are "Russian volunteers" not regular forces.   
Ukraine's military claims the man featured in the video has admitted to being part of a spying group from a central Russian town.
"After we arrived at a local hospital, we put a guard in place," said military commander Viktor Nikoliuk. "And during a short interrogation, they told us that their group was made up of 14 people," he added.
Tensions have also risen in Russia-annexed Crimea where police detained demonstrators trying to take part in an unauthorized motorcade to observe the anniversary of the mass deportation of Crimean Tatars.
MOTORCADE BLOCKED
Crimea's chief of inter-ethnic affairs, Zaur Smirnov, said Monday about 100 motorcade participants were blocked and the men among them were taken to a police station to be interrogated.
Tatars, a Turkic ethnic group, ruled the Black Sea peninsula from the 15th century until Russian conquest in the 18th century.
In May 1944, Soviet leader Josef Stalin accused the Tatars of collaborating with German forces.
He ordered their deportation, many to Central Asia.
Tatars commemorate the deportation annually, on May 18.