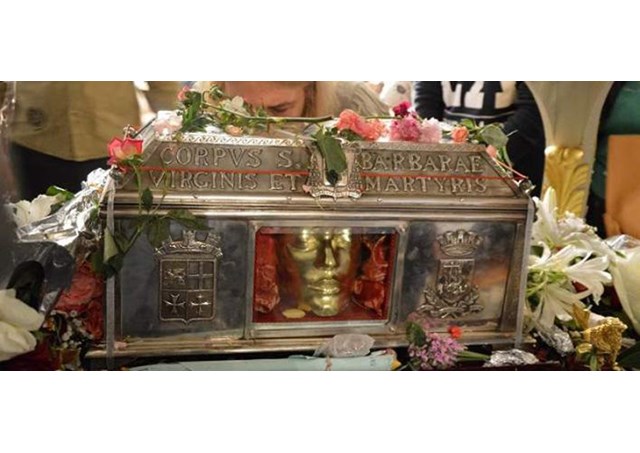 (Vatican Radio) The remains of St. Barbara are in Athens, Greece until the end of this week for veneration, and the faithful are coming out in droves.
Listen to the report by John Carr:
Thousands of devout Orthodox continued to flock to the reliquary of Saint Barbara here in Athens today, a week after the silver casket arrived on loan from Venice.
People of all ages and social backgrounds waited for hours in the sun for a chance to touch the reliquary, hoping for an answered prayer.  The casket contains the remains of Saint Barbara, who according to legend was martyred in Asia Minor in the 3rd century AD.
Last week the reliquary was taken to the Saint Savvas cancer hospital in Athens, where it was literally mobbed by people seeking a healing.  It's due to be flown back to Venice at the end of this week, where it's been housed since the Byzantine Empire sent it there about 1,000 years ago.
A spokesman for the Greek Orthodox Church said the overwhelming popular reception of the reliquary of Saint Barbara showed that faith remained strong in a country where at least 95 percent of the people claim to be Orthodox. He added that the present Greek economic crisis, may well have strengthened the Greeks' faith.
Worshippers questioned by reporters said that Christianity, and the saints, were their only hope after the failure of politicians and economists to right the world's ills.
The Orthodox Church honours Saint Barbara as the patron saint of armourers and artillerymen.
There was some criticism from members of the left wing-led Syriza government, which renewed its call for a separation of church and state.   But if the reception afforded Saint Barbara here in Athens is any indication, most Orthodox will not hear of it.