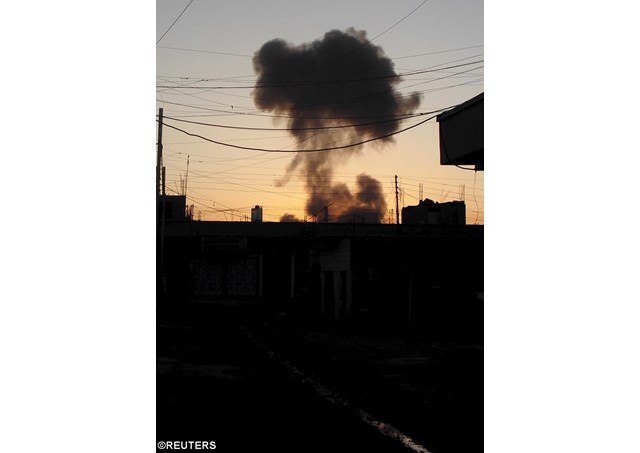 (Vatican Radio) The fall of the government headquarters in Ramadi to so-called Islamic State militants, followed a coordinated attack on the government compound, in which three suicide car bombs killed at least 10 police officers and wounded dozens more. The car bombs were part of a major offensive launched by Islamic State.
According to officials, the militants carried out mass killings as they advanced; included among the victims were dozens of captured security forces and their families. Dozens of other families have fled their homes to safety.
The mayor of Ramadi, Mr. Dalaf al-Kubaisi, said the militants raised their black flag over the government compound, which includes the police headquarters, as well as provincial and municipal offices.
Islamic State fighters also seized other parts of the city and attacked the military headquarters for Anbar province.
Local officials have appealed to Baghdad to send more Iraqi troops as reinforcements and urged the U.S.-led coalition to increase airstrikes against the militants.
Ramadi is the capital city of Iraq's western Anbar province and a central city in the ongoing conflict.
While some have defined the major offensive on Friday as a significant setback for the Iraqi government, United States Marine Brig. Gen. Thomas Weidley, who heads the U.S. command in the campaign against Islamic State, told reporters on Friday that the gains by Islamic State in Ramadi were limited and were being inflated by the militants to "feed their information and propaganda apparatus."
He said Iraqi security forces still controlled most of the key facilities, infrastructure and roadways in the Ramadi area, adding that the U.S. is confident Iraqi forces will be able to take back what it lost in Ramadi.
According to the United Nations, at least 15,000 people have been killed in the conflict in Iraq since last June and the humanitarian situation is increasingly grave.
The U.N. also expressed alarm Friday over clashes between so-called Islamic State militants and Syrian forces near the ancient city of Palmyra -- one of the Middle East's most important world heritage sites. The UN said Palmyra, famous for its 2,000-year-old ruins, should be spared from the fighting and heritage sites should not be used for military purposes. 
Listen to the report by Laura Ieraci: