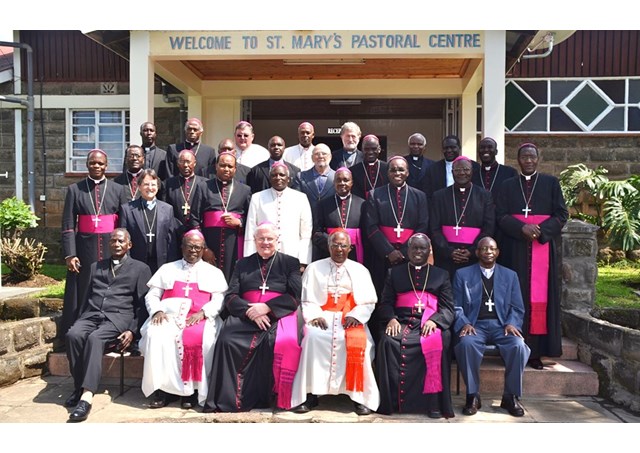 Kenya's Catholic Bishops who recently visited Rome for their ad limina visit to Pope Francis and the Holy See, from 13 April to 17 April 2015, have issued a pastoral statement in which they convey Pope's Francis' apostolic blessings and prayers to the Kenyan people. The Bishops also address themselves to some pertinent issues facing Kenyan society such as on national security and a recent High Court ruling allowing the registration of an Association of Gays and Lesbians in Kenya.
Below is a statement of the Bishops in full.  
(e-mail: engafrica@vatiradio.va)
PASTORAL STATEMENT BY THE KENYA CONFERENCE OF CATHOLIC BISHOPS
 
"Do not be afraid, I am with you, for I am your God. (Isaiah 41:10)
 
Preamble
Dear Christians, fellow Kenyans and all people of good will, we, the Catholic Bishops in Kenya, meeting at St. Thomas Aquinas Seminary in Nairobi from 4th to 8th of May, 2015 greet you in the name of Our Lord Jesus Christ.  Peace be with you!

Coming after our Ad Limina visit to the Holy See, on April 13-17th, 2015, we bring you blessings and prayerful wishes from the Holy Father, Pope Francis. He assures you, dear Kenyans and the entire Family of God of his prayers and solidarity especially in these trying moments for Christians.

During our Ordinary Plenary Assembly, we have taken stock, reflected deeply on the state of the Nation and have identified the following issues of great concern:

State of insecurity 

We began our meeting as the sad news of the horrific slaughter of more than 50 Kenyans in the North Rift and other parts of the country, reached us.

We share the pain of the families and friends who have lost their dear ones.

Dear Kenyans, this is not the first time that lives have been lost in this area. You recall that over 42 security officers were killed in the region in November 2013.

These killings come barely a month after we lost 148 young Kenyans in a terror attack at the Garissa University College. In less than a month, we have lost more than 200 Kenyans to senseless killings. These murders including the deliberate targeting of Christians for execution are unacceptable.

It is sad, that despite many promises, threats and ultimatums which have become the norm from the Government very little is done, and the same tragic cycle of death continues.

Kenyans are worried and desperate. The Government, which swore to protect Kenyans, seems hopelessly incapable of offering permanent solutions to perennial insecurity.

In the case of the North Rift, we have constantly warned that the conflict in the region is worsening, especially after the discovery of oil and other minerals. Hundreds if not thousands of lives have been lost in this perennial conflict that has erroneously been called 'cattle rustling', but which we as Church leaders call brutal murder.

We will not relent in our call to Government to fulfil its constitutional mandate and protect all Kenyans. Time has now come to draw the line. A Government that cannot protect its own people loses its legitimacy to govern.

As a country, we cannot sit back as Kenyans continue to lose their lives due to laxity on the part of our security personnel. These murders in different parts of the country must stop.

Local leaders and other 'untouchables' who continue arming and inciting communities against each other must be dealt with. We have one government and one President. Decisive action must be taken.
Other conflict resolution mechanisms including disarmament, economic empowerment and local peace initiatives need strengthening.

Leadership and Integrity

In the recent past, we have witnessed a serious breach of the code of conduct of Leadership and Integrity by the State and Public Officers in total contravention of our constitution and moral values. Runaway corruption is almost crippling not only our economy but the entire country. State agencies set up to deal with corruption have failed the test of integrity.

While we commend the President for his decisive action of suspending state officers suspected of engaging in corruption, we demand that the process of handling corruption cases is fast, just and conclusive. We decry corruption and demand zero tolerance on the same. Let us unite to end corruption and save our country.

Blanket Adoption of Self Destructive Ideologies 

Fellow Kenyans, we are deeply disturbed by the recent High Court ruling allowing the registration of an Association of Gays and Lesbians.  This is a deliberate attempt by certain individuals and institutions to push dangerous agendas and ideologies that are unnatural, un-African and un-Christian. It is a threat to the family.

What happened to the assurance by the Attorney General to the country and religious groups that the constitution would not legalise same sex unions?

Furthermore Kenyan law outlaws gay sex and sodomy, how then does the same law allow gays and homosexuals to register their organisation? Is this not a legal contradiction?

Our stand as the Catholic Church on this issue is clear; that these unions go against nature and the teachings of the Bible - 'He created them, male and female, and He blessed them.' (Genesis 5: 2).
We will not allow our country to be a sowing ground for strange ideologies in pursuit of narrow economic interests. We categorically reject any agenda fronting this kind of unnatural ideologies.
 
Conclusion
Dear Kenyans, and people of good will, we, the Catholic Bishops in Kenya, urge you to remain prayerful and vigilant. We want to assure you, that we shall not tire of reminding the Government of its constitutional mandate to protect lives and provide basic services: that is our pledge to you.

May the Lord guide you and keep you safe now and forever more.
Signed: ________________________Date: May 8, 2015
Rt. Rev. Philip Anyolo Chairman - Kenya Conference of Catholic Bishops
Rt. Rev. John Oballa Owaa, Vice Chairman (KCCB), Ngong
His Eminence John Cardinal Njue, Nairobi
Most Rev. Zacchaeus Okoth, Kisumu
Most Rev. Peter Kairo, Nyeri
Most Rev. Martin Kivuva Musonde, Mombasa
Rt. Rev. Paul Darmanin, Garissa
Rt. Rev. Cornelius Arap Korir, Eldoret
Rt. Rev. Joseph Mairura Okemwa, Kisii
Rt. Rev. Alfred Rotich, Military Ordinariate
Rt. Rev. Maurice Crowley, Kitale
Rt. Rev. Norman Wambua King'oo, Bungoma
Rt. Rev. Peter Kihara, IMC, Marsabit
Rt. Rev. David Kamau Ng'ang'a, Aux. Bishop Nairobi
Rt. Rev. Anthony Ireri Mukobo, IMC, Isiolo Vicariate
Rt. Rev. Virgilio Pante, Maralal
Rt. Rev. Salesius Mugambi, Meru
Rt. Rev. Emmanuel Okombo, Kericho
Rt. Rev. Anthony Muheria, Kitui Apostolic Administrator, Machakos
Rt. Rev. James Maria Wainaina, Muranga
Rt. Rev. Paul Kariuki Njiru, Embu
Rt. Rev. Maurice Muhatia Makumba, Nakuru
Rt. Rev. Dominic Kimengich, Lodwar
Rt. Rev. Emmanuel Barbara,  Malindi
Rt. Rev. Joseph Mbatia, Nyahururu
Rt. Rev. Joseph Alessandro, Co-Adjutor Bishop Garissa
Rt. Rev. Joseph Obanyi Sagwe, Kakamega