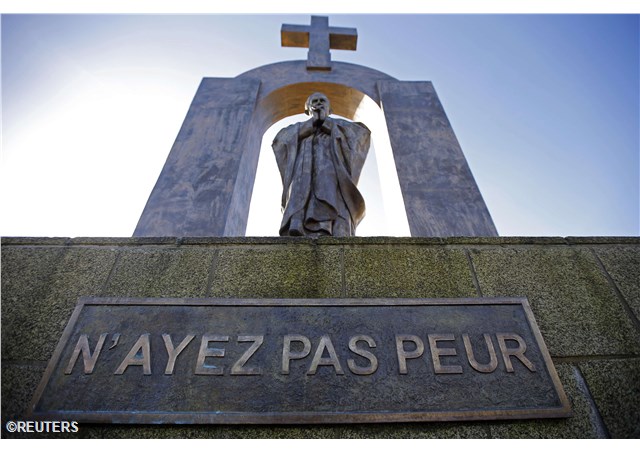 (Vatican Radio)  Authorities in Ploërmel, a small town in Brittany, France have been told they have 6 months to remove a 29 foot (8.75 m) tall bronze statue of Pope John Paul II which has graced one of the town's squares since 2006.
The administrative court of Rennes has ordered the removal of the statue because it does not respect the French Republic's 1905 law governing the principle of laïcité contained in the Constitution and the law concerning the separation of church and state.
The statue by the Georgian sculptor Zurab Tsereteli shows the late Pope standing in prayer beneath an arch topped by a cross.
Magistrates explained that they took issue with the statue's placement under a cross on display in a public square rather than with the actual figure of the Pope, beneath whom are inscribed the pontiff's memorable words, "do not be afraid."
Statue is "ostentatious"
According to the court, the dimensions of the statue and its placement are "ostentatious" in  character.
At the unveiling ceremony for the statue in 2006, Ploermel's Mayor Paul Anselin described John Paul II as "a giant of the 20th Century who participated in the fall of the Iron Curtain".
But opponents applied to French courts for the removal of the statue, claiming it violates French law on the separation of church and state.
The current mayor, Patrick Le Diffon, has announced his intention to appeal the court order, explaining that "it wasn't for the man of the Church but for the man of State that the monument was dedicated in a public square."
The artist has said he will oppose any modifications to the monument, including the removal of the cross and arch.