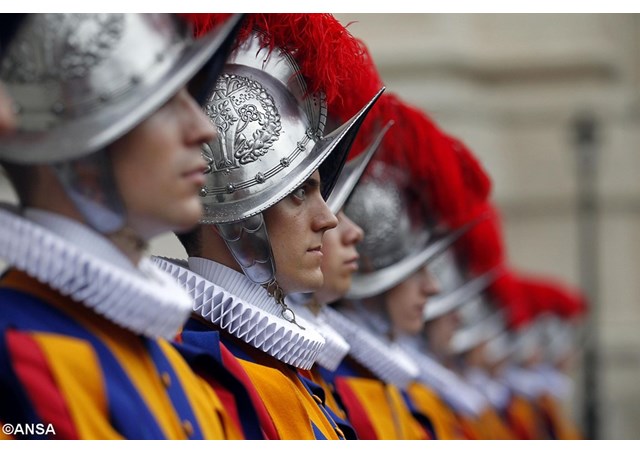 (Vatican Radio) The sacrifice of one hundred and forty seven Swiss Guards who laid down their lives in defense of Pope Clement VII and the Holy Mother Church during the Sack of Rome in 1527 is commemorated each year on May 6.
Yet again, that important date will be remembered on Wednesday afternoon during the annual swearing-in ceremony for new Swiss Guards which takes place in the Saint Damaso Courtyard of the Vatican's Apostolic Palace.
 
The Swiss Guard is the oldest standing army in the world and its motto is "Courage and Loyalty".
2015 sees the swearing in of 32 new Guards who were received in audience by Pope Francis on Monday.
During that audience the Pope told the men who are charged with protecting him that they should pray the rosary during honor guard duty and always carry a small version of the Gospel in their pockets.
"What I tell everyone, I'll tell you too: always keep a small Gospel close at hand, read it as soon as you have a calm moment. It will help you in your personal prayer, especially the Rosary, during the honor guard," he said.
The Pope also called the audience an occasion "to nurture a meaningful friendship, because you work so close to me".
During the ceremony each new guard approaches the flag as his name is called out. Firmly clasping the banner in his left hand, the recruit raises his right hand high and distinctly opens three fingers, a symbol of his faith in the Holy Trinity. 
Then, he confirms the oath, proclaiming:
"I, [name of the new guard], swear diligently and faithfully to abide by all that has just been read out to me, so grant me God and so help me his Saints."
The patron saints of the Guard include St. Martin, St. Sebastian, and St. Nicholas of Flue, "Defensor Pacis et pater patriae."