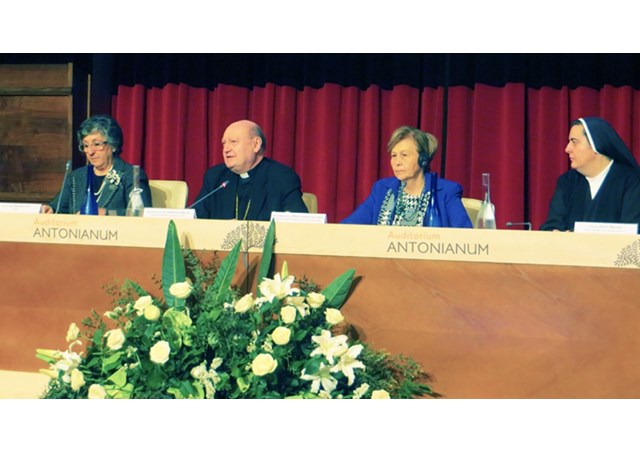 (Vatican Radio) The Pontifical 'Antonianum' University and four embassies to the Holy See teamed up on Tuesday to sponsor a conference on prospects for women in the Catholic Church. Cardinal Gianfranco Ravasi, head of the Vatican's Council for Culture gave the opening address, while participants also heard a video-message from Chile's first female president Michelle Bachelet. 
Philippa Hitchen went along to meet the organisers of the event…..
Listen:
A young Italian sister who is the first female rector of a Pontifical University in Rome and a widowed grandmother of nine who served as Education Minister and the first female president of a Catholic University in her country, Chile. Between them, Sr Mary Melone and Chilean ambassador Monica Jiménez de la Jara make a formidable duo, determined to take seriously Pope Francis' invitation to seek a "more widespread and incisive female presence" in the Church.
The conference was a no-holds barred conversation about the structures and mentalities which continue to impede that vision and limit the leadership roles of women in the Church today. Religious and lay women and men asked questions about why there are not more female professors and pastoral trainers in seminaries and universities? Why can't a women head Pontifical Councils and Congregations, preach a retreat to the Roman Curia or be included in the Pope's Council of closest advisors? If there is a unique "feminine genius", as Pope John Paul liked to say, then why is it not being heard and included in the decision making process at both local and universal level?
Among the conference speakers was Sr Carol Keehan, CEO of the Catholic Healthcare Association of the United States, best known in the secular world for her support of President Obama's Affordable Care Act. 
"Sometimes you hear people say they (women) can't be in that role because a woman wouldn't be respected, it has to be a priest, a bishop……the truth of the matter is that 3 Secretaries of State ago, we raised that question in the U.S., that the Secretary of State could never be a woman….cultures didn't accept women being in the room with men, all kinds of excuses….we've now had 3 successful women Secretaries of State and there's no countries refusing to talk to them. Just because it's always been, doesn't mean it always has to be"
Echoing voices of other women from around the globe who spoke of challenges in their countries, Sr Carol says the advancement of women is not about personal or feminist agendas, but rather about enabling the Church to put the Gospel message into practice, in those places where it's needed most…
"We need to be much more concerned about the woman who doesn't have clean water for her children…than we do about advancing a little bit of our opportunity….but if having a women in that role would mean that we, as a Church, could serve that woman without clean water, and her children and her husband and her family better – then heaven and earth should be moved to get that woman in that job"