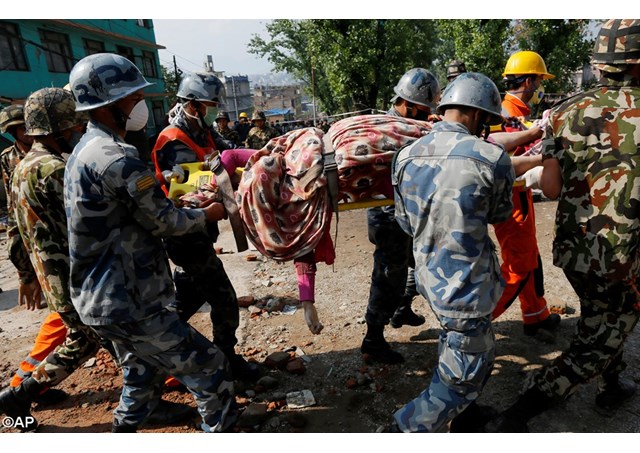 (Vatican Radio) In response to the devastating earthquake in Nepal on Saturday 25th April, the Pontifical Council Cor Unum, following the Pope's assurance for assistance on Sunday, has distributed $100,000 as an immediate initial aid contribution to assist the Nepalese people as they face the current crisis. 
At present at 4,300 people have died, while an additional 7 million people have been affected by the earthquake.  At present the government estimates that around 400,000 buildings have also been destroyed by the earthquake.  Nepal is one of the poorest countries in Asia with an estimated population of 27 to 28 million.
Cor Unum is a Pontifical Council, tasked by the Holy See to coordinate and organise humanitarian aid in the face of natural disasters and humanitarian crises. 
Below is a translation of the communiqué issued by Cor Unum:
Aid to the people of Nepal affected by the Earthquake.  Communiqué from Cor Unum in the name of the Pope (28 April 2015) 
Following the earthquake that at the end of last week, which affected with extraordinary vehemence the area of Nepal, the Pontifical Council Cor Unum, has decided to send an initial contribution of $100,000 to assist the local population. 
This sum, which was assured by Pope Francis during his Regina Coeli address on Sunday April 26th, will be sent to the local Church and will be used to support the works carried out to assist displaced persons and earthquake victims, and is to be a first and immediate concrete expression of spiritual closeness and paternal encouragement for the people and the affected areas.  Episcopal conferences and Catholic charitable organisations are already extensively involved in the assistance effort.
According to available information at the moment, but not yet definitive, the deceased victims, some of whom are registered in neighbouring countries, would be over 4,300, with an additional 7 million people affected in 34 districts in the country of Nepal, 1 million are homeless, 2 million would be children who are in need of aid.  Various areas have been isolated and relief has not yet been able to reach them.  In addition to this, the government has estimated that around 400,000 buildings have been destroyed.