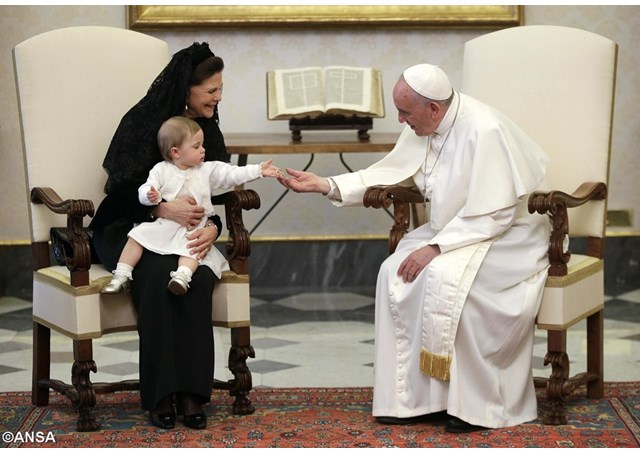 (Vatican Radio) Pope Francis on Monday met with Queen Silvia of Sweden, who personally led her delegation to a one-day seminar on human trafficking and the exploitation of women which was being held at the Vatican.
Although a Swedish interpreter was present, the two spoke mostly  in Spanish, which the Queen speaks fluently. In fact, Queen Silvia at one time worked at the Argentine Consulate in Munich.
The Queen spoke with the Holy Father about various activities she has promoted in Sweden, especially in favour of children. Pope Francis took the opportunity to express his gratitude for the welcome Sweden has extended to refugees and displaced persons.
Queen Silvia, the wife of King Carl XVI Gustaf of Sweden, was accompanied by her youngest daughter, Princess Madeleine of Sweden, her husband, Christopher O'Neill, and their young daughter, 14-month-old Princess Leonore.
The Queen gave the Pope a set of prayer books used by the Royal Family, along with a photographic portrait and a vase with the Royal Coat of Arms.
Pope Francis gave the Queen a Pontifical Medal, along with a copy of  "Evangelii gaudium" in the Queen's native German.