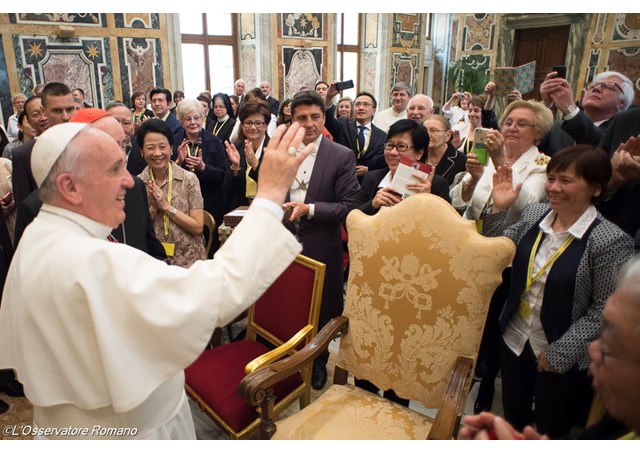 (Vatican Radio) The word "solidarity" maintains it "prophetic force" today, even though some people may have thought the term had seen its day, said Pope Francis on Saturday, during his message to members of the John Paul II Foundation.
Listen to the report by Laura Ieraci:
The foundation was established by papal decree in 1981 and carries out charitable work in the fields of education, science, culture and religion. It is based in the Vatican.
In his message, Pope Francis said the canonization of the late pontiff gave the foundation's mission "a new impulse," making it even "more universal."
The foundation offers "a precious contribution" to the promotion of the "spiritual legacy" of Saint John Paul II,  he added.
He thanked foundation members for their educational initiatives among youth – noting Saint John Paul II's "great love for young people and special pastoral care for them" – allowing the late pontiff's "charism and paternity (to) continue to bear fruit."  
The foundation's formation opportunities also help to prepare priests and laity to "accompany communities faced with the cultural and pastoral challenges today," the pope said.
"To this, you can also add the rich magisterium of social doctrine that Saint John Paul II left us, which is always actual," he said.
One of the "key words" of social doctrine is "solidarity," which is a word that perhaps some people thought had seen its day, said the pope. "But in reality, it retains today its prophetic force," he said.
He urged the foundation's members to "live this solidarity" among themselves and to nurture it with Christian fellowship, animated continually by prayer and the obedience to the Word of God."
Learn more about the foundation at: http://www.fjp2.com/