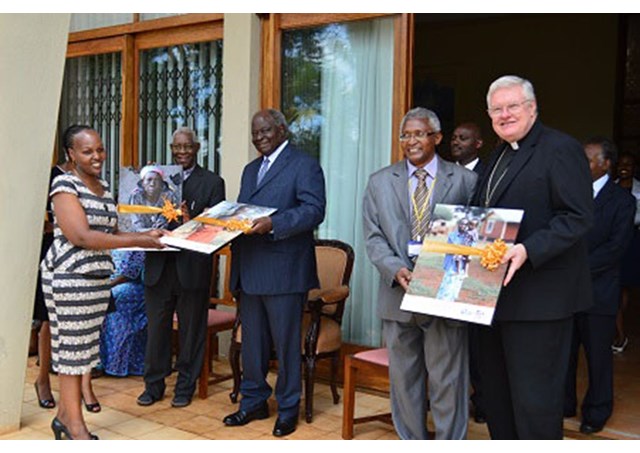 Non Governmental and non-profit organisations have been challenged to focus more on innovation and diversification in order to complement the efforts of the Kenyan government in developing the country.
Speaking during the Catholic Relief Services (CRS) golden jubilee celebrations in the Kenyan capital of Nairobi, on Wednesday, Kenya's former republican president Mwai Kibaki said it was now time for NGOs operating in Kenya to actively encourage expansion of sources of wealth creation amongst Kenyans.

President Kibaki said the efforts of getting involved in economic value addition, agriculture, agro-processing and processing of consumable goods for the domestic and export market will solve the problem of unemployment and poverty in the country.

President Kibaki commended the work of the Catholic Church in the evangelization, education and health sectors adding that, it has been more than 100 years since the Catholic mission was established in Kenya.

Representing the Kenya Conference of Catholic Bishops (KCCB), the Archbishop of Nyeri, Peter Kairo, congratulated the CRS East Africa region for 50 years of "great and exemplary service to humankind through charity work," he said.

Archbishop Kairo commended CRS for strengthening Catholic Church institutions in East Africa by offering trainings directly or indirectly to employees implementing CRS programmes and Church leaders in policy and governance issues. This, he said, has enabled them to become competent witnesses of the Gospel of Christ.

The Archbishop also applauded the efforts and commitment of the United States Conference of Catholic Bishops (USCCB) in assisting the poor and vulnerable in the East Africa Region.

The colorful CRS celebration, hosted by the Apostolic Nuncio to Kenya and South Sudan, Archbishop Charles Daniel Balvo, brought together old and new employees of CRS. The celebrations were led by the executive vice president of CRS for overseas operations, Schylor Thorup.
Several KCCB representatives and other partners participated in the celebrations.
Catholic Relief Services (CRS) is the official international humanitarian agency of the United States Conference of Catholic Bishops. The organisation describes itself as the official overseas relief and development agency of the U.S. Conference of Catholic Bishops and a member of Caritas International and as well as the National Catholic Development Conference.
CRS approaches emergency relief and long-term development holistically.
(By Rose Achiego/photo,Virginia Kabugu)
e-mail: engafrica@vatiradio.va