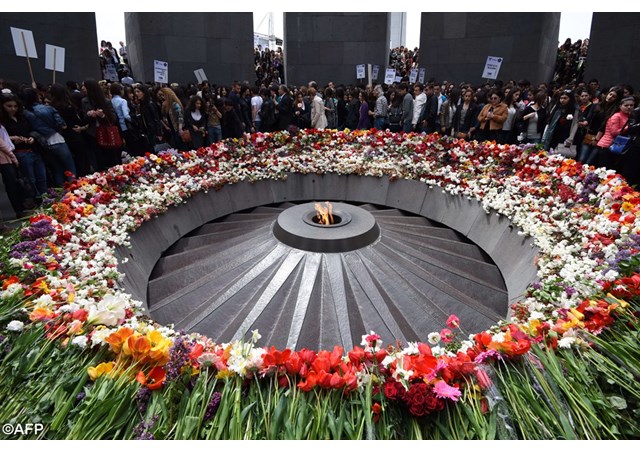 (Vatican Radio) The head of the Vatican's Council for Promoting Christian Unity is in Armenia this week to take part in a series of events recalling the massacres that took place at the hands of the Ottoman empire one hundred years ago.
Cardinal Kurt Koch travelled on Wednesday to the Armenian capital Yerevan, where he will attend a canonisation service for victims at the ancient Etchmiadzin Cathedral on Thursday and a commemoration ceremony at the national genocide memorial on Friday.
The cardinal will deliver a message from Pope Francis for the event, quoting from the words the Pope used at a special commemorative Mass in St Peter's Basilica on Sunday April 12th. That celebration was attended by leaders and faithful of both the small Armenian Catholic Church and the majority Armenian Apostolic Church which is part of the Oriental Orthodox family.
Accompanying Cardinal Koch on the three day visit is Fr Gabriel Quicke who heads the desk for Oriental Orthodox relations at the Council for Christian Unity. He told Philippa Hitchen more about the importance of these historic events…
Listen: 
Fr Qucike says the programme of events begins with a 'global forum against genocide' which includes the participation of many different churches to exchange experiences and come up with a common statement…
The history of the Armenian people is the story of a journey, he says, as they are like Abraham, always travelling from place to place, but also witnesses to the terrible atrocities of a century ago….
Commenting on reactions to the Pope's words at the Mass for Armenians in Rome earlier this month, Fr Quicke says the Armenian Apostolic Church was happily surprised to hear him use the word genocide. He points out the Pope was referring back to the joint statement from John Paul II and Karekin II in 2001 but this was the first time that the word has been pronounced publically by a Pope. He also notes that Pope Francis was using it in the context of the ongoing persecutions of Christians in the Middle East, North Africa and elsewhere..
While relations between the Armenian Catholics and the Armenian Apostolic Church are good, Fr Quicke says the canonisation and commemoration of the martyrs can bring the two communities closer together. When people are beheaded today, he says, it's not because they are Catholic or Orthodox or Evangelical but because they are Christians, so through this ecumenism of blood, "the seeds of unity of the Church can grow and become stronger".