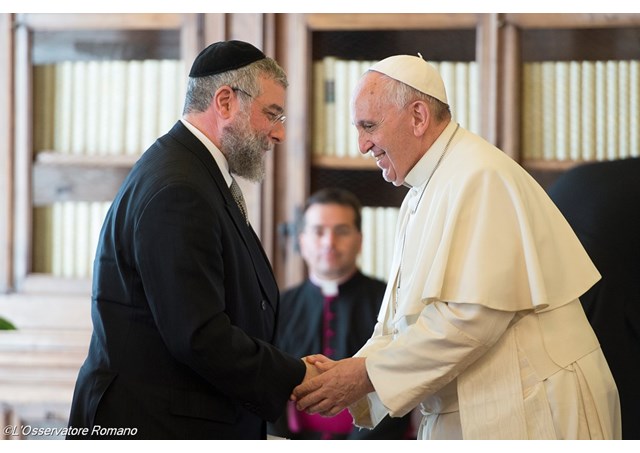 (Vatican Radio) In a meeting on Monday with members of the Conference of European Rabbis, Pope Francis spoke of the troubling anti-Semitic trends in Europe today, 70 years on from the liberation of the Auschwitz death camp from the Nazi regime.
Greeting the group, which represents more than 700 Rabbis from synagogues across the continent, the Pope spoke of the importance of emphasising the spiritual and religious dimension of life in Europe, which is increasingly "marked by secularism and threatened by atheism". Jews and Christians together, he said, have the responsibility of preserving a sense of the sacred and reminding people that our lives are a gift from God.
Following that papal audience, Philippa Hitchen talked to the Chief Rabbi of Moscow Pinchas Goldschmidt who was leading the delegation in his role as President of the Conference of European Rabbis.
Listen: 
Rabbi Goldschmidt notes that although this was the first official meeting of Pope Francis with the Conference of European Rabbis, many members of the group from different countries have met with popes and Vatican officials over previous decades.
He says the meeting in the Vatican has historic value and marks a step forward in facing together the challenges of both faith communities. These include the plight of Christians in the Middle East and of Jews being attacked in European countries, but also the common quest for religious freedom in the face of a counter attack against religious expression in Europe….
Rabbi Goldschmidt says religious communities must work together against radicalisation, including the great majority of moderate Muslims in Europe who want to live normal lives and educate their children…
As we mark the 50th anniversary of the document Nostra Aetate, which changed relations between Christians and Jews, Goldschmidt says it's important that its message extends all over the world, to places like South America and other countries where the message has not yet reached.
Rabbi Goldschmidt also recalls the legacy of former Chief Rabbi of Rome, Elio Toaff who died on Sunday, describing him as great leader in post-Holocaust Europe and a founding member of the Conference of European Rabbis. Recalling his friendship with Pope John Paul II, Goldschmidt says he played a part in furthering relations between the Vatican and the world's Jewish communities.