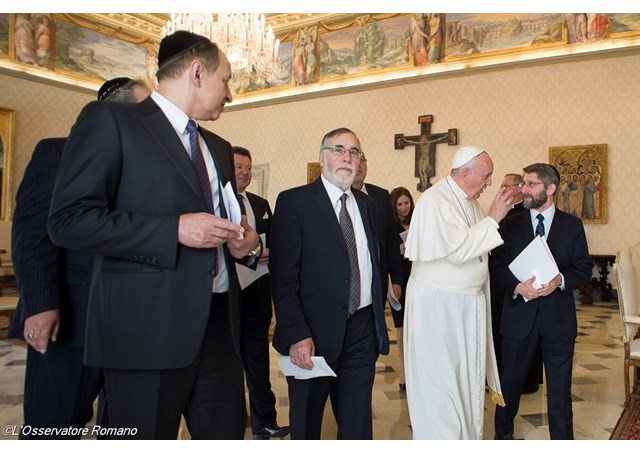 (Vatican Radio) Jewish Catholic relations were under the spotlight in the Vatican on Monday as Pope Francis met with a delegation from the Conference of European Rabbis. The conference represents more than 700 Rabbis from synagogues across the continent and is focused on defending the religious rights of Jews in Europe today.
Listen to Philippa Hitchen's report: 
In his words to the Rabbis, Pope Francis recalled the legacy of Rome's former Chief Rabbi Elio Toaff who died on Sunday just days before marking his 100th birthday. Recalling his historic first encounter with Pope John Paul II in 1986, Pope Francis said we gratefully remember him as a man of peace and dialogue.
The Pope also looked ahead to this October's celebration of the 50th anniversary of the document Nostra Aetate which marked a turning point in relations between Catholics and Jews. While this landmark text remains the reference point for all joint efforts, the Pope said it's more important than ever today to emphasis the spiritual and religious dimension of life in Europe, which is increasingly marked by secularism and threatened by atheism. Jews and Christians together, he said, have the responsibility of preserving a sense of the sacred and reminding people that our lives are a gift from God.
Finally the Pope noted the troubling anti-Semitic trends in Europe today and said the memory of the great tragedy of the Shoah, in the heart of Europe, remains as a warning for present and future generations.
Responding to the Pope, the president of the Conference of European Rabbis, Pinchas Goldschmidt said Jews in Europe today feel trapped between the attacks of radicalized Muslim immigrants and the secular backlash of many European political leaders.
Goldschmidt, who is the Chief Rabbi of Moscow, thanked the Holy See and Catholic communities across the continent for supporting the quest for religious freedom. He also warned of the conflict in Russia and what he called a "new mounting wall between East and West", urging Pope Francis to help build new bridges and bring the West back from the brink of war.