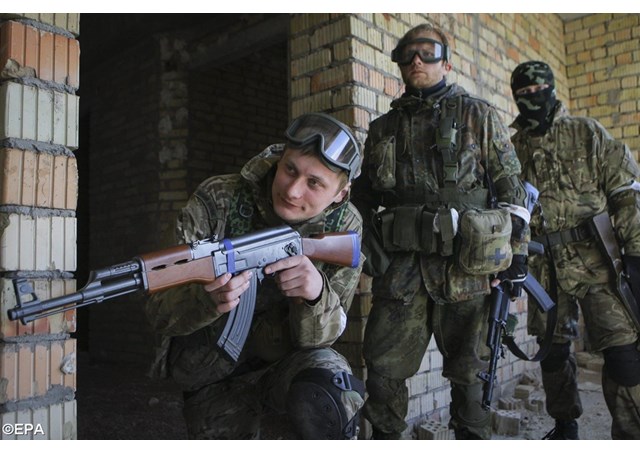 (Vatican Radio) The leadership of pro-Russian separatists has warned of all-out war unless Kiev recognizes rebel-held areas in eastern Ukraine. The warning came amid escalating fighting between government forces and rebels in some regions and while hundreds of American troops arrived to train Ukraine's army. 
Listen to the report by Stefan Bos: 
A senior rebel leader, Aleksandr Zakharchenko, said he wanted to expand the self-proclaimed Doneksk People's Republic (DPR). He insisted there would be massive violence again unless Kiev meets  the demands of a ceasefire deal agreed in Minsk, Belarus, and accepts self-rule of rebel regions.  
"Kiev could once again provoke the conflict very soon by attacking Donetsk or any other town of the DPR. After this the war will start again," he told the BBC in an interview. 
"And the war will continue until Kiev can see it's losing," he said. They may "again request peace and another Minsk agreement," Zakharchenko stressed. "There could be a Minsk 5, a Minsk 6, a Minsk-7 or Minsk 8 and so on until Kiev realizes its armed forces aren't able to complete the tasks the president wants."
He added that by refusing to pay pensions and other social benefits, Kiev has already recognized the independence of rebel controlled regions. Kiev has denied this.  
AMERICAN TROOPS ARRIVE
His comments came while some 300 American paratroopers began training Ukrainian national guard units. Moscow claims the move "will further destabilize the situation in the country."  
But Washington argues the move is necessary as Russia supports the rebels with weapons and troops. Russian president Vladimir Putin has denied the allegations, telling his nation in televised remarks "there are no Russian troops in Ukraine."
However on thne battle field shelling could be heard in Donetsk and other areas in recent days, in a further sign that the Minsk agreement has not brought real peace to the troubled region.
On Saturday, Kiev said rebels had attacks government forces in the Luhansk region, but the assault was repelled. 
Both Ukraine's central government and the rebels claim they have withdrawn to have withdrawn heavy weapons from the front lines. 
MANY ARE KILLED
The United Nations says at least 6,116 people have been killed since the fighting began in the Donetsk and Luhansk regions last April - a month after Russia annexed Ukraine's Crimean peninsula.
Ongoing clashes have added to anti-Russian sentiments in some areas: In one of the latest incidents masked men tore down two statues of former Soviet communist leader Vladimir Lenin in the eastern city of Kharkiv. 
It was part of similar incidents across Ukraine, after parliament adopted controversial legislation banning Russian propaganda. 
The ongoing turmoil has also led to tensions between Russia and neighboring countries: Even  Belarusian President Aleksandr Lukashenko said he would not be attending the Victory Day parade in Moscow on May 9 commemorating the 70th anniversary of Soviet victory over Nazi Germany. 
Several Western leaders had already said they would stay away from the Moscow parade to protest Russia's intervention in Ukraine.