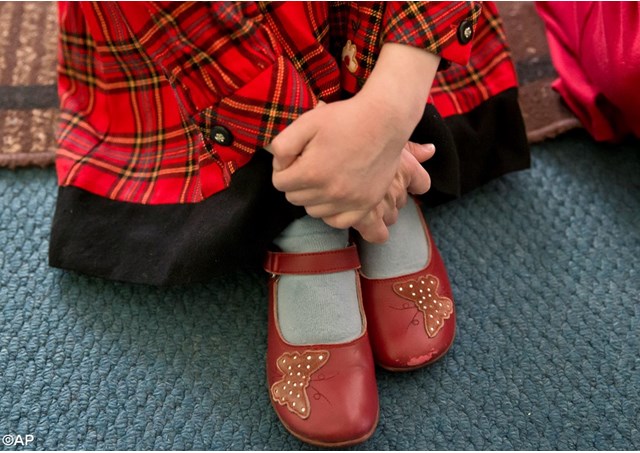 (Vatican Radio) With the world focused on war in Ukraine, many disabled children living there are apparently forgotten. International rights activists have expressed concern that thousands of minors are being condemned to live in orphanages and institutions where they face neglect and abuse. 
Listen to this report by Stefan Bos
Their lives have just begun, but many of Ukraine's disabled children are locked up, and abused, as if they are animals, according to a new report by advocacy group Disability Rights International (DRI). 
It's a leftover of the era when Ukraine was part of the Soviet Union. Communists neglected people with physical or mental difficulties.  
More than two decades after Ukraine's independence, disabled children are still seen as a burden on society. DRI demands change in the former Soviet nation. 
UKRAINE'S GOVERNMENT PRESSURED
It condemns Ukraine's government for expanding often poorly-run orphanages and children's homes. Kiev says it wants to protect orphans in especially war-torn eastern Ukraine and ensure they are not moved to Russia by pro-Russian separatists there. 
Yet DRI claims expanding orphanages without focusing on children's welfare goes against a global trend toward helping the disabled to integrate into society.
Additionally, "children caught in the cross-fire of the current armed conflict in eastern Ukraine are especially at risk of being abandoned and disappearing from institutions," argues DRI President Laurie Ahern. 
After a three year investigation, DRI has concluded that orphans in institutions in Ukraine are exposed to physical and sexual violence. And its just released report warns that minors live in danger of being trafficked for sex, labor and pornography. 
LOCKED AWAY
DRI President Ahern says children with mental and physical disabilities are often the worst-abused as the majority languish in institutions their whole lives "locked away and forgotten."
And, "because they have a disability, they are taught their lives are not worthy of the basic human rights that you and I are afforded," she explains.        
"For children with disabilities, they are often the most abused and neglected and most will die in institutions. Children who are let go or "graduate" from facilities at the age of 15 or 16, are sitting ducks for traffickers as they face life on the streets alone," Ahern adds. 
Concerns over their treatment come while Ukraine seeks closer ties with the European Union, which claims to demand equal rights for all in member states. DRI Founder Eric Rosenthal urges authorities not to forget children. 
"Whether future generations of kids who themselves are labeled with a disability or a mental illness and they are told they can't be a part of society. They need to know know they can, and that we stand up for them and that we will protect them," he says.    
MANY ORPHANS
Estimates for the number of Ukrainian children in care vary from 82,000 to 200,000. DRI's Ahern believes the situation in Ukraine 
underscores the need for a wider global debate on children's rights. 
"The world would be a better place without an orphanage in it. And no child should ever be grown up in an orphanage. And it is our goal to make sure that this happens," she says.  
Rights activists estimate that worldwide some 10 million infants and children live in orphanages. 
Ninety-five percent of them have living parents, according to DRI.