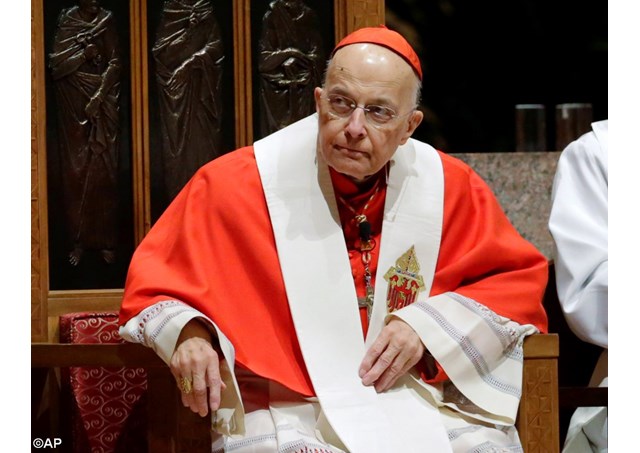 (Vatican Radio) The Archdiocese of Chicago is mourning the death of its former leader, the retired Cardinal Francis George, who died Friday morning after a long battle with cancer. He was 78 years old.
Archbishop Blaise Cupich of Chicago paid homage to his predecessor at a press conference, describing the cardinal as a man of "peace, tenacity, and courage" who in his ministry always chose the "Church over his own comfort and his people over his own needs."
Listen to the Report by Andrew Summerson:
Born in Chicago in 1937, the young Francis contracted polio, which left him with a limp. Because of his disability, he was rejected by the Chicago seminary, later entering the missionary order of the Oblates of Mary Immaculate. He was ordained for the Oblates in 1963 and served as the order's Vicar General, from 1974 to 1986.
He was the named Bishop of Yakima, Washington, in 1990, and was appointed archbishop of Portland, Oregon, in 1996. Less than a year later, he was appointed archbishop of Chicago.
Known for his keen intellect, Cardinal George authored several books and held doctorates in both philosophy and theology.  For most of his priestly life, he worked in academia, teaching at the Oblate seminary in Mississippi and later at Tulane University and Creighton University.
Cardinal George served  as president of the United States Conference of Catholic Bishops, from 2007 to 2010, opposing  the U.S. government's controversial Affordable Care Act. He was also an courageous voice during the church sex-abuse crisis, urging zero-tolerance for offenders as the only option compatible with Catholic teaching.
Despite his recurring cancer, Cardinal George continued in his pastoral ministry, submitting his resignation to the Pope on his 75th birthday in 2012. Pope Francis appointed his successor, Archbishop Blaise Cupich, last September.
The Archdiocese of Chicago said Cardinal George's funeral will be on Thursday; visitation will take place in Holy Name Cathedral Tuesday and Wednesday.
With Cardinal George's death, the College of Cardinals now has 223 members, with 121 under the age of 80 and able to vote in a papal conclave.