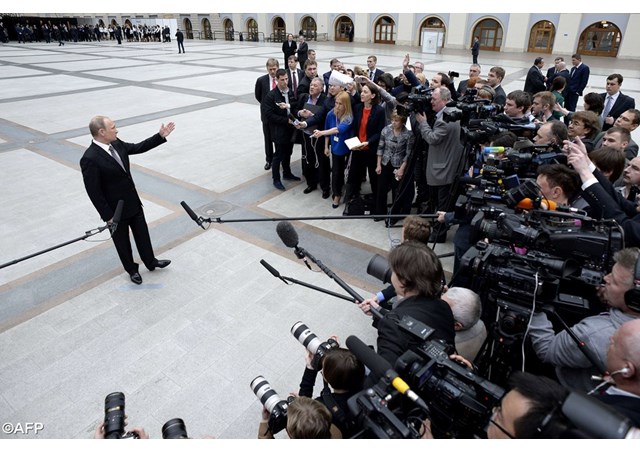 (Vatican Radio) Ukrainian police say a journalist known for his pro-Russian views has been shot and killed in the capital Kiev, a day after a pro-Russian lawmaker was found dead there. The killing of Ukrainian Oles Buzyna was condemned by Russian President Vladimir Putin, who claimed it was part of a wider crackdown on political opponents.  
Listen to this report by Stefan Bos
Ukraine's Interior Ministry said the 45-year-old journalist Buzyna was killed early Thursday afternoon by two masked men shooting from a passing car. Buzyna, who ran for a seat in parliament on the Russian Bloc ticket in 2012, had a three-month stint as the editor-in-chief of the Segodnya newspaper. Segodnya was owned by Rinat Akhmetov - a Russia-leaning tycoon believed to be Ukraine's richest man. However Buzyna recently resigned citing censorship. 
His killing is no isolated case. 
Buzyna was murdered a day after a close ally of ousted pro-Russian president Viktor Yanukovych was found shot dead near his 
home in Kiev. Police refused to say whether the ally, Oleh Kalashnikov, had killed himself. 
PUTIN ANGRY
Russia's Putin has expressed concern over the killings. When asked about Thursday's murder of Journalist Buzyna he said it was "not the first political killing in Ukraine, there's a series of such killings." 
Putin made the comments during a four-hour carefully choreographed televised call-in show. 
He also pledged that Russia would overcome its economic troubles and is on the road to recovery, despite Western sanctions over Russia's intervention in Ukraine."We have negative consequences of sanctions. This is true," Putin acknowledged. 
However, "We will have to be patience," he said. "The growth internal of agriculture production is inevitable, especially with the support of the government."
NOT HAPPY
Putin said he realized that "agriculture industries are not happy." He added: "I know there will be questions. But the support of the government is there. Our own production, our food security, [that] we will be bringing."  
He offered to normalize ties with the West, including the United States, if in his words it treats Moscow as an equal partner and not a "vassal." 
Yet Putin defended Russia's delivery of a long-range air defense missile system to Iran, saying it was a reward for Tehran's flexibility in nuclear talks. He also vowed to support international efforts to reach a definitive solution to the country's controversial nuclear program. However Israel has expressed concern over the missile deliveries.