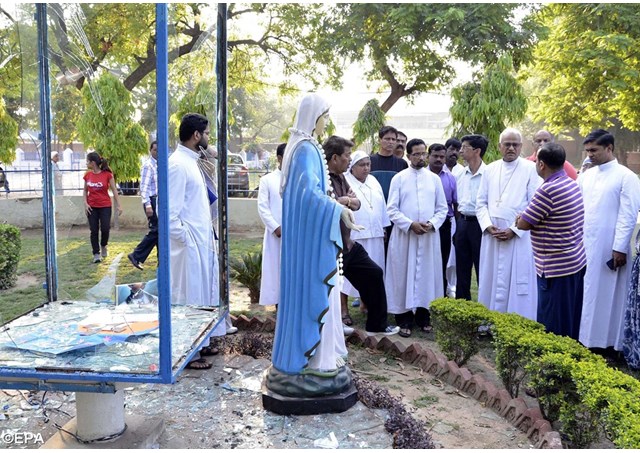 Suspected Hindu hardliners have vandalized church in Agra, the city known around the world for the Taj Mahal, a day after India's finance minister Arul Jaitly described a series of attacks on churches and Christians in recent months as criminal acts and not hate crimes.
Vandals broke open the gates of St Mary's Church located in the district of Pratabpura, and destroyed two statues on Thursday morning, parish priest Eugene Lazarus told ucanews.com.
The priest said he was awoken at about 3:30am by his car alarm and found all four of its doors open and windscreen smashed. Later he saw the open church gate and destroyed statues, which had been housed in glass cases in the grottos of the church. "One statue was made from fiberglass and they could not smash it. They seemed to have put a dog leash round the neck of the statue and pulled it from its stand," the priest said.
According to the pastor, Fr. Lazarus "in putting the dog chain around the neck of the Mother Mary intruders have wanted to hurt our religious feelings." The priest made a complaint to the local police. Later in the day today, the Christian community will organize a protest march.
He said the 93-year old parish church has no history of any sectarian tension. "People lived here peacefully. The church is open for all people, and even Hindus come and pray in the church," he said. "It was such a friendly atmosphere that we did not even think of having a guard for the church," he added.
An archdiocese official said they suspect the incident was part of a spate of anti-Christian attacks that have taken place across India since the Hindu nationalist BJP came to power almost a year ago.
Since December, at least six churches in Delhi have been vandalized and there have been scores of other anti-Christian attacks in India, including the rape of an elderly nun. Christian leaders say the incidents were hate crimes by Hindu fanatics.
However, Minister Jaitley told a television news channel on Tuesday that the government believes "all the incidents were law and order problems". Jaitley said not "a single case [attack] was carried out by the majority community ... nor were they of a political nature or communal."
Sajan K. George, president of the Global Council of Indian Christians (GCIC), spoke to AsiaNews of the "deep shame of the act of vandalism on four statues of Mother Mary. It is even more vulgar, that one of the Holy and Sacred Statues were  wrapped a dog chain. Recently Arun Jaitley, Minister of Finance, said there is 'evidence that most of the attacks on churches have no religious reasons'. Will the media tell the truth now? ".
"Such hostility against the Christian minority - said the activist – is only increasing, while the government does nothing to stop them and the radical right-wing Hindus continue with their diatribes, such as the recent request of forced sterilizations for Christians."
(Source: AsiaNews, UCANews)