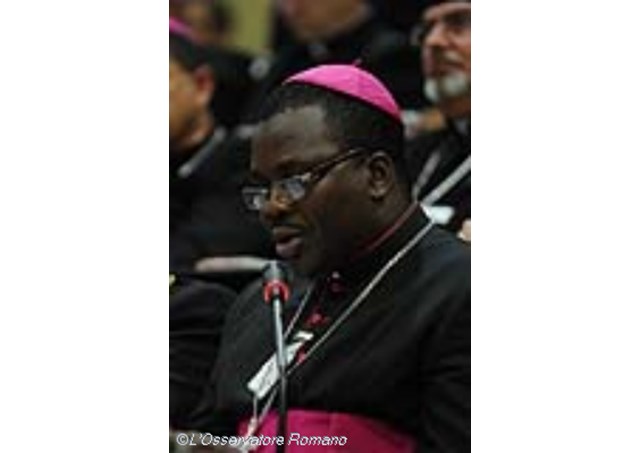 Nigeria's Catholic Bishops, priests, religious and laity in Ibadan Ecclesiastical Province have been holding an international Pro-life and Pro-family conference which ends Wednesday. The conference is a response to the increasing violation of the sanctity of human life in the world. At the same time the conference is responding to Pope Francis' call for the need to sustain and support marriage and family life.
Below is a statement issued by Bishops of the Ibadan Ecclesiastical Province
International Pro-Life and Pro-Family Conference
Ibadan Catholic Ecclesiastical Province: 13-15 April Press Conference given at the Catholic Chaplaincy of the University of Ibadan, Oyo State
TOPIC: Protecting Human Life and Family Values in the Rising Tide of the Culture of Death
This Pro  Life and Pro Family Conference is a response by the Catholic  Bishops and Church of Ibadan Ecclesiastical Province to the dire situation around us of increasing violation of the sanctity of human life at every stage and in every manner. It is also in alignment with the Holy Father, Pope Francis who has convoked a special Synod dedicated to the family which was held in October 2014 and another one to hold in October 2015 to reflect on the means of sustaining and supporting marriage family life. This Conference will bring together Pro-life and Family advocates and resource persons, leaders, stakeholders from Africa, Europe and America and the general public to reflect with our Church in the Province of Ibadan on the family as the foundation of the Culture of Life. It will also help to develop strategies for defending the sanctity and dignity of human life.
The present situation of continual bloodshed due to wanton killing, terrorism, inter ethnic conflicts, ritual killing, armed robbery, murders, traffic accidents and suicide in Nigeria seriously calls to question our identity as Africans and our civility as a nation. As the general elections continue in Nigeria we feel compelled to speak up for respect for human life and dignity and the recovery of family values among our peoples.
Therefore, the following are the insights and contents of our Pro-Life and Pro-Family Conference:
1.     God is the giver of all human life and only He has the right to take it. Every conceived child is formed and perfected in the image and likeness of God. Human life therefore begins at the moment of conception, and must be protected until natural death. Nigerians love life, they welcome children as precious gifts, celebrate motherhood and uphold marriage as a union between man and woman. Every child deserves a home and the love and care of a father and a mother. 
2.     Witnessing to the dignity of human life should include the defense of marriage between a man and a woman, the promotion of chastity, the campaign against abortion and all forms of artificial birth control, as well as the promotion of natural family planning methods while seeking to empower all Nigerians to live a more dignified life.
3.     The family is God's precious gift to humanity which ought to be continually cherished. It is the bedrock and foundation of the development of a better society because it has the primary role of educating children which provides formation of character and ensures ethical living.
4.     Only sacramental marriage between a man and a woman forms the foundation for the human family. Such a covenantal union is the true source for procreation offered to man by God. This Conference will attempt to show the lie of same-sex unions as a grossly disordered phenomenon which should never be given legal status in Nigeria. The adoption or promotion of same-sex unions undermines the right to life, right to freedom of conscience, religious liberty, respect for moral and cultural values, etc. It also harms the innocence of children, degrades marriage and family life and destabilizes society, now and in the future.
5.     For us, to be Pro-Life is to be Pro-Christ, for Jesus came to give life and life to the full (Cf. John, 10:10). We are however thankful that other religions have a strong sense of the sanctity of human life as a gift of God as well. It is therefore imperative for the Catholic Church and all religious organizations in Nigeria to be more courageous and consistent in Pro-Life activities in favor of human life, marriage and the family as counter-cultural antidotes to contemporary secular humanism and other anti-life ideologies and practices. This call is urgent, as campaigns and lobbies against life, marriage and family in Nigeria have become more intense at both the Federal and State legislative levels.
6.     Government must recognize and respect the primordial origin of the family and do its profound moral duty to protect the weakest and the most vulnerable human beings from all threats. Professionals and practitioners of media particularly have a special responsibility before God in this regard. The right to life - the most basic of all human rights - applies to all, regardless of race, colour, creed, sex, religion, state of physical health, age, stage of development or condition of dependency. Government policies and programmes therefore ought to reckon with and protectt this fact of our common humanity.
7.     We condemn the relentless promotion by some international organizations of Western style "sexuality and reproductive rights", a euphemism for abortion, artificial family planning and a culture of contraception, as deceptive and unacceptable. Accordingly, we ask that all legislations for abortion, which is the intentional killing of innocent babies in the womb, be denounced and abrogated. We remain resolved in our efforts to ensure that abortion is never legalized in our country. We also wish to alert our people to the surreptitious infiltration of our school curricula by lobbyists of these corrosive anti-life agenda of pervasive contraception abortion and even homosexuality generally for monetary gains.
8.     The entire human person belongs to God. This means that neither the human person nor his body parts can be reduced to commodity for commercial purposes. Therefore, we strongly condemn human trafficking, the sex trade, human egg trafficking, embryo manipulations and organ poaching or harvesting.
Finally in the name of our merciful God we call for an end to all forms of terrorism, ritual and political killing. As Pope Saint John Paul II of blessed memory exhorted us, we urge every person of goodwill to continue courageously to witness to the dignity of every human life at every stage and age and to the indispensability of marriage and family life in Nigeria for the development and sanity of our country and the future of all our children.
Thank you all for listening
Most Reverend Gabriel Abegunrin                           Archbishop of Ibadan
Most Reverend Ayomaria Atoyebi                            Bishop of Ilorin
Most Reverend  Emmanuel Badejo                           Bishop of Oyo
Most Reverend Felix Ajakaye                                   Bishop of Ekiti
Most Reverend Jude Arogundade                              Bishop of Ondo
Very Rev. Fr Michael Okodua                             Vicar General of Osogbo Diocese