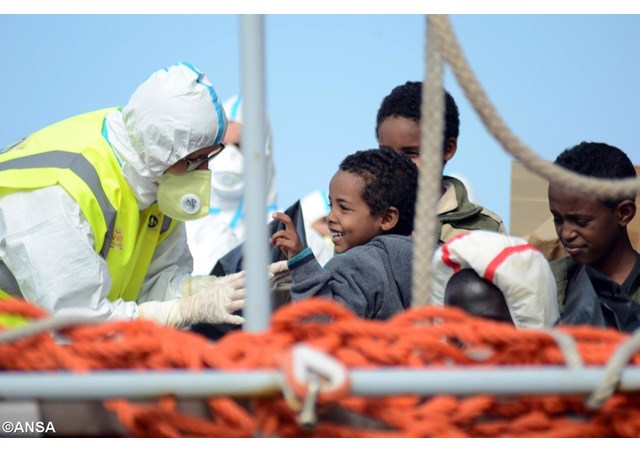 (Vatican Radio) 400 migrants are feared dead after a boat capsized off Libya on Sunday. 
Nine bodies have been recovered, but no more survivors have been found after the Italian coast guard rescued 144 people from the boat on Monday and launched an air and sea search operation.
Almost 10,000 have been picked up in recent days, and more boats are heading for the Italian coast.
Hundreds of thousands of people have made the perilous crossing in recent years, fleeing conflict, persecution and poverty.
Echoing the Jesuit Refugee Service that has repeatedly called on EU leaders to put into action new policies, the UN refugee agency and other aid organizations say not enough is being done to save the lives of the rising number of refugees and migrants trying to cross the Mediterranean to Europe.
Linda Bordoni spoke to the Director of Communications at JRS International, James Stapleton who says that "unfortunately we are going to continue saying it until States do something about it".
Listen to the interview:
James Stapleton points out that the situation is really clear: "we have Iraq and Syria exploding, we have Eritrea and other crises ongoing in world – people need to get to safety".
He says that even taking into consideration the reticence of European governments in terms of the numbers of people who are arriving, what JRS is calling on them to do is: first of all save lives!
"We need to have a European response. We can't continue with a 'beggar-thy-neighbour' response" leaving it up to whoever happens to be on the front line geographically, he says.
Stapleton says that the European Union is supposed to create a space of security and freedom: "that's what the European leaders have said and all we are asking the European leaders to do is to live up to European traditions, moral values and to what they have said".
The rising numbers of people leaving their countries of origin speak of a real exodus as entire families flee increasing violence and conflict. Stapleton says that as far as JRS is concerned the situation is getting worse.
He says that colleagues in Syria fear that Aleppo could fall within days with the consequences of a mass exodus from Aleppo into Damascus "if people can get there". He explains they will not be able to get into Turkey because that border is closed so "people will move towards Lebanon; or worse: it will become a city which is besieged with increased suffering" he says.
"There is only one response that people can have for themselves and for their families: and that is to try and get to safety!" he says.
Stapleton says that European governments need to realise that if protection is provided within the region there will be more people who will remain there; "but we cannot play games with peoples' lives, people are taking dangerous journeys because they are desperate" he says.
"That level of desperation will not reduce if we just decide to put our heads in the sand. It is short-sighted to believe we can just pretend this is not happening. And that is what governments have been doing until now" he says.
Stapleton speaks also of the state and number of the reception centers to where migrants and refugees are sent once on Italian soil. He says something has been done but not enough.
He is adamant that this is a problem that must be tackled by the EU and not by individual countries that happen to find themselves bearing all of the responsibility of what is happening just because of where they happen to be.
He expresses his hope that after the British election in May the stance of that government will change and that a massive 'search and rescue' operation be put into place with the support of all EU States.
Regarding the conflicts that are at the root of so much forced migration, Stapleton expresses his belief that regional partners and international partners need to push the actors on the ground towards a negotiated solution: "because there is only one solution that is a negotiated, political one" he says.