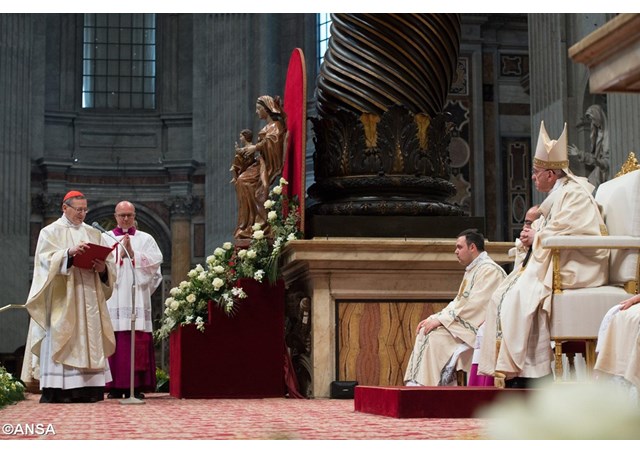 (Vatican Radio) On Divine Mercy Sunday, Pope Francis proclaimed the great Armenian Saint Gregory of Narek a Doctor of the Universal Church.
The solemn proclamation took place during the introductory rites at the beginning of a Mass commemorating the 100th anniversary of the beginning of the massacre of Armenians in Ottoman Turkey.
The Prefect for the Congregation for the Causes of Saints, Cardinal Angelo Amato, SDB, made the formal request for the proclamation, recalling the similar declaration, almost one hundred years ago, of another Eastern Saint, Ephrem the Syrian, as a Doctor of the Church. Cardinal Amato noted that Saint Gregory has been compared not only to St Ephrem, but also to the Church Fathers St John Chrysostom and St Gregory the Illuminator, the patron saint of Armenia.
St Gregory of Narek, the Cardinal said, was a "great theologian, mystic, and poet," who communicated his spiritual and ecclesial experience both by his life and his dogmatic teaching, "transmitting his theology along the path of beauty." Cardinal Amato said "the depth of the theological ideas of our Saint, the newness of his thought, and the force of his poetic words have always been appreciated both on the popular level and on the level of the men of culture." St Gregory's works have penetrated "every aspect of Armenia's religious life and culture."
Cardinal Amato pointed out four areas of special distinction in the doctrine of St Gregory of Narek:
- The sense of sin and of the limits of man, who is incapable of speaking to and with God without the mediation of the incarnate Word.
 - The dogmatic reflection on the mystery of the Most Holy Trinity, in which he saw a reflection of the human soul, and especially an analogy with the three theological virtues.
 - The defence of the supernatural efficacy of the Sacraments and of their role in transmission and of the mediation of the Church, reaffirming the importance of divine grace and of the interior life, in contrast to the heretical tendencies of the Thondrakians, who claimed to go back to the origins of Christianity, denying the hierarchy.
 - The devotion to the Virgin Mary, the Panaghia, "She who is nothing but holiness," the "All Holy," exalting "the absolute invulnerability of the Holy God-bearer in the confrontation with sin," in her role of Mediator, as a "bridge between God and man."
For all these reasons, Cardinal Amato said, the Pastors of the Armenian Church have often asked the Popes to proclaim St Gregory of Narek as a Doctor of the Universal Church – a request finally fulfilled by Pope Francis.