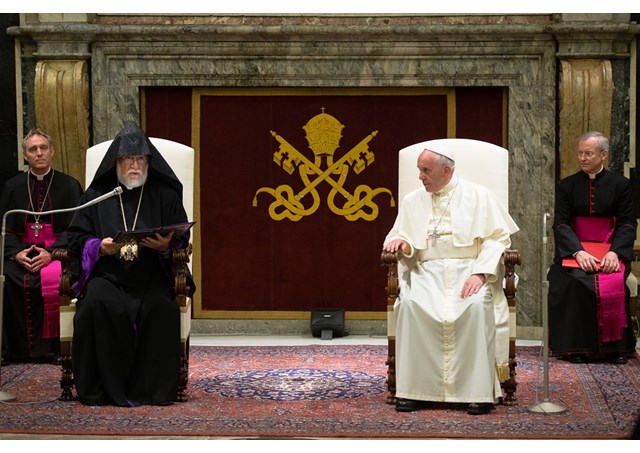 (Vatican Radio) The Catholicos of Cilicia of the Armenians, His Holiness Aram I, offered greetings and thanks to Pope Francis following Mass in St. Peter's Basilica on Sunday. Please find the full text of his remarks, below.
*********************
This is indeed a unique moment in our modern history; a moment marked by ecumenical and pan–Armenian symbolism. I would like to highlight three significant aspects of this historical moment.
First, we are grateful for Your Holiness' initiative in celebrating a holy mass in the Papal Basilica of Saint Peter in the Vatican in commemoration of the one–and–a–half million martyrs of the Armenian Genocide.  As St. Paul says, "To die in Christ is to live"  (Phil. 1:21).  The Armenian martyrs belong to the "cloud of witnesses surrounding us" (Hebr. 12:1). With their faith, hope and vision, they have sustained and guided the life of our people during the past 100 years. We remember the words of the 2nd century church father Tertullian, "The blood of martyrs is the seed of the church." The canonization of the martyrs by the Armenian Church will fortify our people's faithfulness to their sacred legacy.
Second, today, Your Holiness has proclaimed Saint Gregory of Narek a doctor of the Church (Doctor Ecclesiae).  We express our spiritual joy for this decision of the Catholic Church. In fact, Saint Gregory of Narek is one of the great mystics of world Christendom. He was an outstanding theologian, whose theology is not an intellectual reflection on God, but a dialogue with God. With his BOOK OF LAMENTATIONS, which is a human cry for meaning and salvation, St Gregory of Narek remains our eternal contemporary.
And finally in this spiritual context,  by remembering and commemorating the Armenian martyrs, we also reclaim justice.  Justice is a gift of God; violation of justice is a sin against God. For one hundred years, the Armenian people have remained faithful to the legacy of its martyrs by demanding the recognition of the Armenian Genocide and reparation. This commitment for justice will continue with renewed faith and resolve.
The Vatican has never been indifferent to the Armenian Genocide. Pope Benedict XV wrote a strongly worded letter to the Sultan of Turkey protesting the "massive crime" perpetrated against Armenians. In the following years, the Holy See extended its social and humanitarian aid to the Armenian people. In fact, the newly released historical documents confirm the Holy See's firm stand with the Armenian people's claim for justice. Our people value the moral support of the Holy See.
With these thoughts in mind and hope in heart, we express our profound gratitude for the love and fellowship that Your Holiness has always shown towards our church and people. We pray that Almighty God enrich your ministry with continued achievements at the service of the Church's mission and unity.