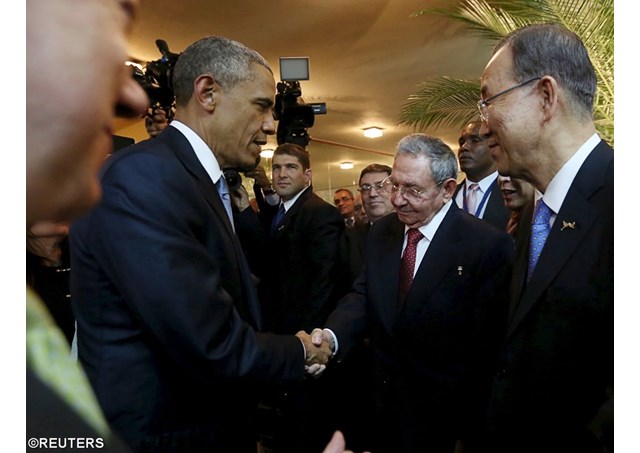 (Vatican Radio) In a fundamental chapter in relations between the United States and Cuba, U.S. President Barack Obama and Cuban leader Raul Castro met briefly and shook hands before the seventh annual Summit of Americas in Panama yesterday.
Before the Summit, President Obama expressed his hopes that a new relationship with Cuba will improve the lives of Cubans.
Obama and Castro are scheduled to meet later today for longer talks. Their meeting today is the first formal encounter between the leaders of U.S. and Cuba in more than five decades.
Pope Francis, who President Obama said played a significant role in reopening the dialogue between Cuba and the U.S. last December, sent a message to the Summit entitled  "Prosperity with Equity: the Challenge of Cooperation in the Americas."
Pope Francis entrusted the message to Vatican Secretary of State Pietro Parolin, who reportedly read the message. According to Italian news agency ANSA, the message spoke of the unequal distribution of goods as a source of conflict in the Americas and the shortcomings of trickle-down economics.
Cardinal Jaime Ortega, Archbishop of Havana, also spoke of the initiative taken by the Holy Father in December in breaking down the decades-long enmity between the two nations.
The Summit brings together leaders of 35 countries from North, Central, and South America. This year marks the first time Cuba is participating in the event.
Listen to the report by Andrew Summerson: