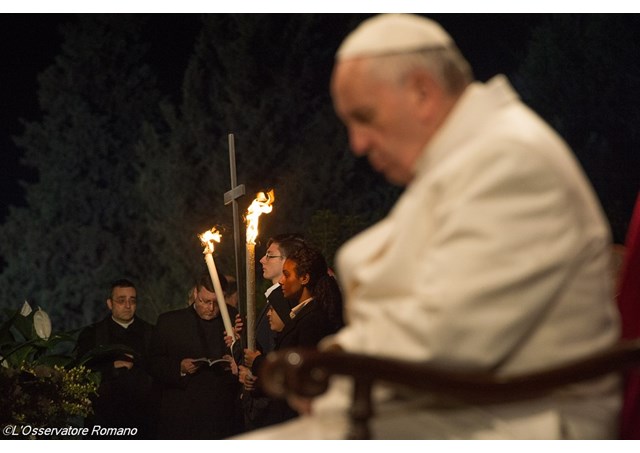 (Vatican Radio) Pope Francis will celebrate the culmination of the Paschal Triduum, the Easter Vigil, tonight at 8:30 PM in St. Peter's Basilica. The celebration of the Easter Vigil will begin with the blessing of the paschal flame in the atrium of St. Peter's Basilica. The Paschal candle will then be brought in procession into the Church. After which, a deacon will sing the "Exultet" -- the ancient hymn that praises the resurrection.
Lit from the single flame of the Paschal candle, about 7,000 candles in the hands of the congregation will illuminate the basilica.
In one of the highlights of the liturgy, Pope Francis will baptize 10 catechumens. The group to be received into the Church is diverse. The catechumens include five women and four men, and one teenage girl; four are from Italy, three are from Albania, and three others from Cambodia, Kenya, and Portugal respectively. The catechumens range in age, from 13 to 66.  
The Pope is expected to deliver the homily.
During his catechesis at the general audience earlier in the week, the Pope explained the significance of the rites on Holy Saturday.
"On Holy Saturday, the Church identifies with Mary and contemplates Christ in the tomb, after the "victorious battle of the cross," he said.
The Church, like Mary, remains vigilant on Holy Saturday, keeping alive "the flame of faith" and "hoping against all hope in the resurrection of Jesus."  
The movement from darkness to light during the Easter Vigil liturgy can also apply to our own lives.
In the darkest moments of our lives, it is Christ who "lights the fire of the love of God."
Listen to the report by Andrew Summerson: