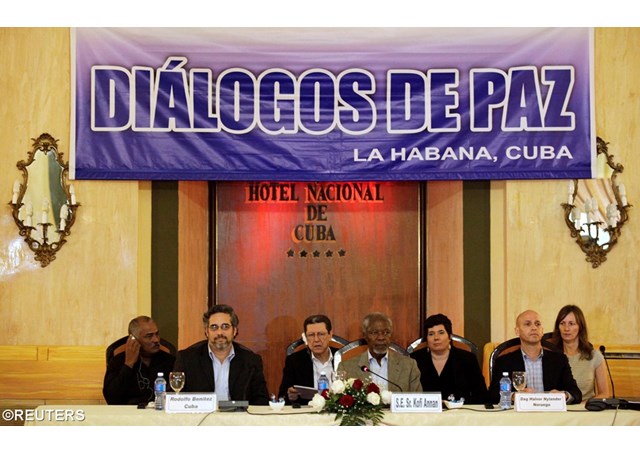 (Vatican Radio)  Continue with the work of "justice, brotherhood, solidarity, dialogue and understanding:" that's Pope Francis' encouragement to the people of Colombia as the country negotiates with Marxist rebels to end fifty years of war.  The Bogotà government is more than two years into peace negotiations with the Revolutionary Armed Forces of Colombia, or FARC, rebel group.
Listen to Tracey McClure's report:
In a letter on the Pope's behalf to Colombian bishops for Holy Week, Vatican Secretary of State Cardinal Pietro Parolin says the Pope is aware of the crucial importance of this time in which the Colombian people are seeking "to construct a more just and fraternal society: a society in peace."
"His Holiness invites you to be collaborators in the construction of peace," Cardinal Parolin writes, adding that the Pope expresses his solidarity with the victims of the conflict which has killed 220,000 people.
The letter invites Colombians to "not lose energy or hope" in the face of difficulties in the peace process and urges them "to continue to work for truth, justice and reparation" so that "what went before will never be repeated."
Negotiators have so far reached partial accords on land reform, an end to the illegal drugs trade and political participation for ex-rebels. They are now debating issues of reparations to victims and the demobilization of guerrillas.
"We must continue the commitment to the displaced, to survivors of land mines, those who have endured the taking of their property, the kidnapped, with everyone who has suffered,"
the letter reads.
"Constructing peace,"  the letter says, "is a complex process that does not come to completion in short term spaces or plans.  Risks need to be taken to cement peace…"
"Building a stable and lasting peace," for Pope Francis means also "to work in favor of healthy relationships within  families which are struck by worrisome situations of violence so that, transformed by the power of the Gospel, they may become seeds and schools of a culture of peace and of reconciliation."
All of the Church, its parishes and institutions, the letter reads, must "take the risk" of being transformed into "a field hospital:" a safe haven where victims of atrocities can meet with those who committed the violence against them. What the Pope is looking for is a Church where everyone can find healing and an opportunity to recover their lost or stolen dignity – "a place where repentance, forgiveness and the decision to not reproduce the chain of violence are possible."