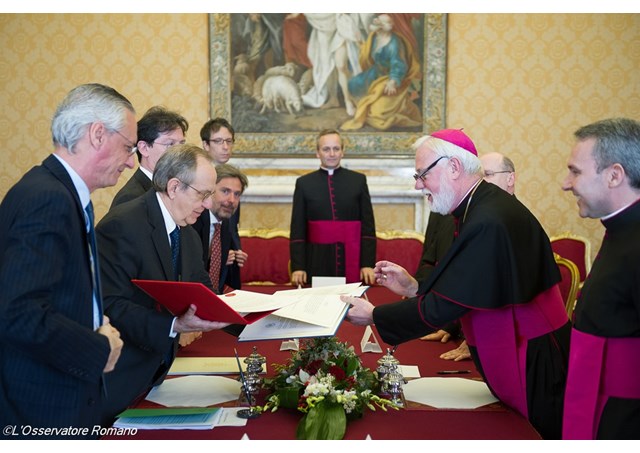 (Vatican Radio) Italy and the Holy See signed an agreement on Wednesday to cooperate on fiscal matters, a move described as the fruit of the significant reform process that has been taking place in the Vatican since 2010 to ensure maximum financial transparency.
The accord was signed by Archbishop Paul Gallagher, the Holy See's Secretary for Relations with States and by Italy's Finance Minister, Pier Carlo Padoan. A statement from the ministry noted that Italy was the first state with which the Vatican signed such a convention, incorporating `'the most updated international standards'' for exchange of financial information. It follows on from similar agreements signed by Italy with other states including Switzerland, Liechtenstein and the principality of Monaco.
Listen to our report: 
According to the terms of the accord, the Vatican and Italy agree to a full exchange of information on fiscal matters dating back to 2009.  The agreement also confirms that all extra-territorial Vatican property will continue to be exempt from Italian property tax, as agreed in the Lateran Pacts of 1929.
Writing in the Vatican newspaper, L'Osservatore Romano, Archbishop Gallagher notes that the new agreement will facilitate the work of the Italian tax authorities, while at the same time "providing an important service to all those physical and juridical persons resident in Italy who…. carry out financial activities within Vatican territory. This includes not only all religious institutes and congregations, as well as employees of the Holy See, but also organizations dealing with works of charity or apostolic life.