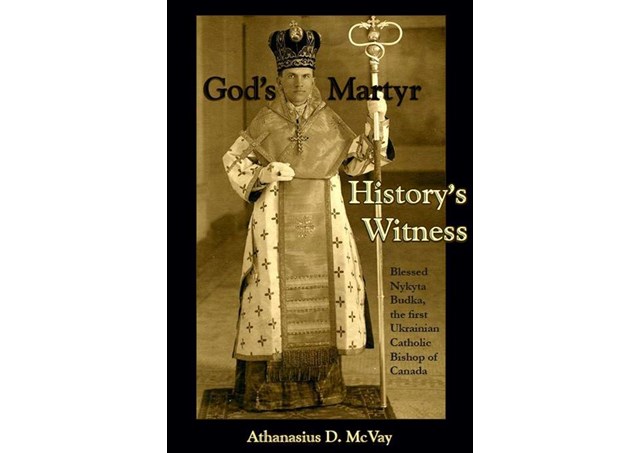 A book presentation was held in Rome last week for the launch of a new biography of the first Ukrainian Greek Catholic Bishop of Canada, Blessed Nykyta Budka. Major Archbishop Sviatoslav Shevchuk of Kyiv-Halych was present for the book launch, along with Bishop Borys Gudziak of Paris and Bishop Hlib Lonchyna of London.
"God's Martyr, History's Witness," by Father Athanasius McVay, was commissioned by the Ukrainian bishops of Canada for the commemoration of the 100th anniversary of Bishop Budka's arrival in Canada.  
Bishop Budka began his ministry in Canada in 1912, just before the beginning of the first World War. After 15 years in Canada, he returned to his native Galicia in what is now Ukraine. During the Soviet occupation of Ukraine following World War II, Bishop Budka was imprisoned and deported to Kazakhstan, where he died a martyr's death.
Nykyta Budka was beatified by St John Paul II during the Pope's visit to Ukraine in 2001; in 2012, the Canadian Conference of Catholic Bishops chose to honour Blessed Nykyta Budka, along with another Bishop Martyr, Blessed Vasyl Velychkovsky, by making them the objects of veneration for Catholics of all Rites in Canada.
Father Athanasius said Bishop Budka's example "as the shepherd of immigrants and migrant peoples in such a multi-cultural society as Canada is very important." Bishop Budka's ministry to Ukrainians and other immigrants to Canada, he said, is "a very important example, also an example very much of sacrifice, someone who gave up everything, even his personal reputation."
Finally, after a life of totally dedicated service, Bishop Budka "gave up everything, including his own life, rather than break with the unity of the Catholic Church, the Universal Church, that was instituted by Christ, and the unity with  Blessed Peter the Apostle and his successors." This unity, Father Athanasius said, is the hallmark of the Ukrainian Catholic Church. "It is a Church of Martyrs, of Eastern Catholics, proud of their own Byzantine-Slavic traditions, and at the same time, fiercely united with the Apostolic See and the Successor of Peter. It's what defines us."
Father Athanasius McVay spoke with Vatican Radio about the life of Blessed Nykyta Budka, and about his significance today: