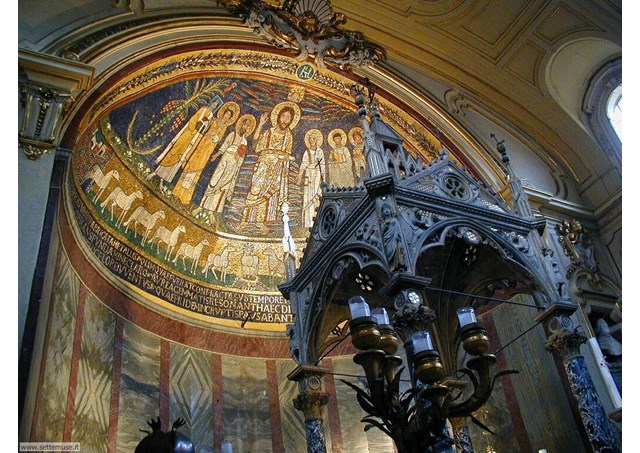 (Vatican Radio) Thanks to the International Association for the Study of Gregorian Chant, courses are now being offered at the beautiful ninth century Basilica of Santa Cecilia in Trastevere, here in the heart of Rome.
Five years ago the monastic community of Santa Cecilia, with the support of the monks of St Paul's outside-the-walls, established a school of liturgical spirituality and Gregorian chant, "Cantantibus Organis". It is named after the patron saint of music, St Cecilia, a martyr who belonged to the earliest Christian community in Rome and whose memory remains alive at the Abbey of Santa Cecilia where the school is based.
The school was founded to offer training in ars celebrandi (the art of a living liturgical formation). within a monastic setting. Participants are introduced to the interpretation of Gregorian neums in the light of the latest research, as in recent years understanding of Gregorian chant has been transformed by the study of its oldest musical notation, thanks to progress in the field of semiology.
Courses are open to all - beginners as well as those who have already received a musical grounding – and is aimed at those who wish to make liturgical music an important part of their spiritual life. It is especially well-suited to those who hold positions of liturgical responsibility - cantors, choir directors and organists in monasteries, parishes and other places of public worship. There is also a Pueri section of the school to enable children to learn to play the piano, and it is hoped in due course to extend tuition to other musical instruments, as well as to Gregorian chant.
The first course extends over the entire liturgical year from this coming Advent Sunday until the Solemnity of Christ the King in 2016. Courses offered are wide and varied, and include amongst other subjects, music theory, Gregorian chant, vocal technique, polyphony choral direction, piano and organ accompaniment of Gregorian chant, and liturgical spirituality. Whilst all courses are available to participants, it is also possible to opt just for certain subjects.
A new venture last year, which is being repeated in 2015, is a week-long intensive course in Gregorian chant, which runs from Monday 24 until Sunday 30 August. It forms an integral part of the year-long course above, but is intended for those who cannot commit to an extended period of study. The course benefits from many of the same acclaimed tutors as the year-long programme, and will culminate with Sunday Mass in the basilica of Santa Cecilia, when both groups will be asked to sing the Ordinary and Proper by themselves.
The Cardinal Vicar of Rome, Agostino Vallini, has welcomed the availability of these courses, writing, "I am delighted about this initiative, which will, I hope, enable those taking part to come to know, appreciate and pass on to others the Church's heritage of Gregorian chant. The chant has the power to help many in our own day to lift up their voices in praise of the Lord".
For further details, including information concerning Italian classes, please email Sr Margaret (Truran) OSB, at cantor@benedettinesantacecilia.it