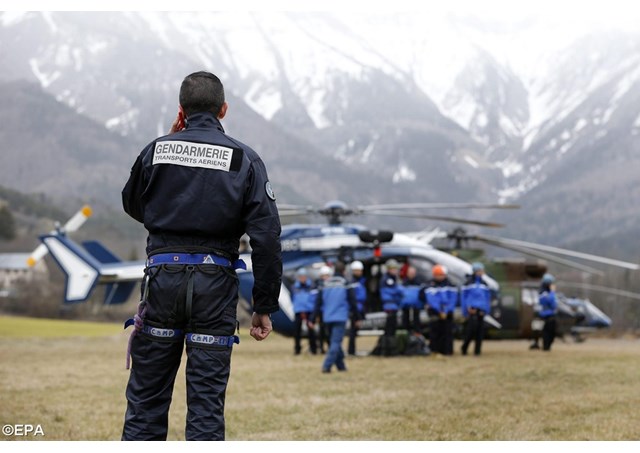 (Vatican Radio) Pope Francis has expressed his closeness to the families of the victims of a plane crash in the French Alps.
In a telegram released on Tuesday, the Vatican Secretary of State Cardinal Pietro Parolin writes that the Holy Father "joins in the grief of the families" of the victims, which include many children.  Pope Francis is also praying for those who died "entrusting them to the mercy of God" and he has  expressed his sympathy for all those affected by the tragedy, including rescue workers who are carrying out their duties in difficult conditions.
The German A320 Airbus carrying 150 people came down in a remote, snow-covered mountainous region in the French Alps. There were no survivors. The cause of the crash is not yet known, however, the first black box flight recorder has been located. Weather at the time of the crash was calm, but it later deteriorated and there are forecasts of snow Wednesday further hampering search efforts.
The Germanwings flight was travelling non-stop from Barcelona in Spain to Duesseldorf in Germany. Germanwings spokesman Thomas Winklemann said the descent lasted for eight minutes.
16 of those aboard the plane were pupils from Joseph-Koenig school in the German town of Haltern, returning from an exchange trip. A memorial mass was held Tuesday for the victims and the local church remained opened all night for those wishing to mourn.  
The leaders of Germany, France and Spain are due to visit the crash site.
Below, please find the full text of the telegram for the air crash in France:
Having learned of the tragic plane crash in the region of Digne, which caused many casualties, including many children, His Holiness Pope Francis joins in the grief of the families, expressing his closeness to them in sorrow. He prays for peace for the deceased, entrusting them to the mercy of God that He might welcome them into His dwelling place of peace and light. He expresses his deep sympathy for all those touched by this tragedy, as well as for the rescue workers working in difficult conditions. The Holy Father asks the Lord to give strength and consolation to all, and, as a comfort, he invokes upon them the abundance of divine Blessings.