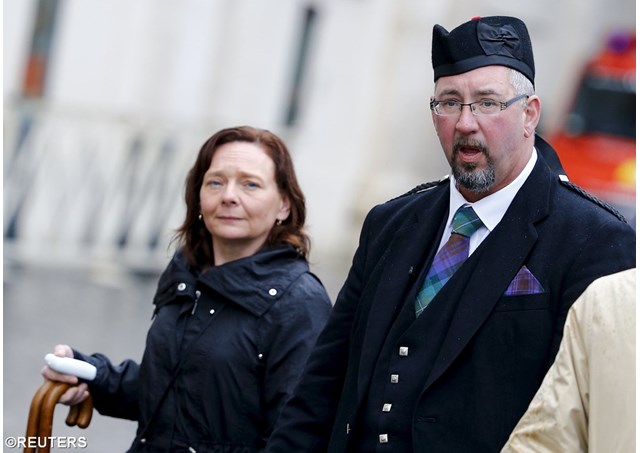 (Vatican Radio) Among those greeting Pope Francis at the end of his general audience in St Peter's Square was Mike Haines, whose brother, David, was murdered by a so-called Islamic State militant in September 2014. Since then, Mike has been working tirelessly to spread a message of interfaith cooperation and unity to combat violence and extremism.
Accompanying him to the Vatican on Wednesday to share this testimony was the wife of another British murder victim, Alan Henning, as well as a Muslim friend of the Haines family, London-based Imam Shahnawaz Haque.Philippa Hitchen met Mike and Shahnawaz just after the audience to find out more about their mission …
Listen here to Philippa's report: 
If you look up the story of David Haines' kidnapping, you'll see an all-too-familiar picture of a black clad executioner holding his pale faced victim in a bright orange suit, with a warning that he'll be the next to die. It's an image that has haunted Mike Haines, ever since the terrorists  murdered US journalist Stephen Sotloff and David's family knew they had little chance of ever seeing him alive again.
Yet it's also the image that drives Mike forward with his mission of trying to end fear and hostility between people of different cultures and religions, knowing that it's the best way he can honour the work that David was doing with refugees on the border between Turkey and Iraq.
That's why he was here in the Vatican, fighting back the tears, as he told Pope Francis about the message he was bringing. Mike says he'd tried to prepare the right words, but when he saw the Pope arriving, his mind went blank. However, he continued, Pope Francis made him feel at ease, by saying that he was praying for the Haines family and praying for him to continue his work…
Recalling the day he found out his brother had been kidnapped, Mike says he received a phone call from the head of ACTED (Agency for Technical Cooperation and Development) for whom David had been working……his brother, Mike says, was doing what he was best at, going out and helping others… "it was his calling". Following his capture, Mike adds, he knew that the chances of getting David out were not good so the family's mantra was "to prepare for the worst and hope for the best"….
Though Mike finds it hard to talk about the tragedy his family has endured, he's quite clear in his condemnation of those who try to blame the Muslim community for the terrorist atrocities. In fact one of the first things he did in the wake of David's murder was to seek the advice of a Muslim scholar so he could quote a couple of verses from the Koran to show his solidarity with Britain's Muslim communities. Islam, he says is about "understanding, tolerance, welcoming, it's about giving strength" but like every religion, he continues, there are groups of people who take sentences of their holy books to give them justification for their actions and that is wrong….
In his mission to close the gap of fear and suspicion that the terrorists are trying to create, Mike is supported by his friend, psychotherapist and Muslim scholar Shahnawaz Haque who says it is "extremely disturbing, distressing and traumatic" when terrorists use the words of the Koran to justify their acts of unspeakable violence. He recalls that as a young child of Asian immigrants in the UK he suffered from prejudice and racist slurs in the streets and now, he says, it's hard to imagine or understand the fear that people say they have of the Muslim community…
Shahnawaz Haque says the only way to combat the prejudice and fear is through education and interaction between ordinary people. He believes Pope Francis himself is modelling the true religious qualities of humility and compassion, as well as creating new opportunities for encounter and interfaith understanding between people of so many cultures and communities. "I pray that God assists him in the good work that he's doing", he says.