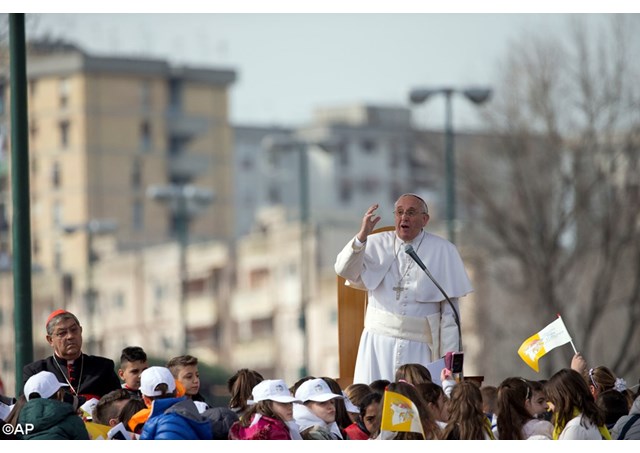 (Vatican Radio) Continuing his whirlwind trip to Pompeii and Naples, Pope Francis on Saturday morning arrived in Scampia, an impoverished neighourhood close to Naples where he received a rapturous welcome from the community there in John Paul II Square.
Click here for our video report:
It is an area, which Cardinal Cresenzio Sepe described in his address to the Pope during this visit, as a suburb of Naples, which despite its many problems is rich in resources, especially the Parishes that are committed to spreading the Gospel.
Speaking to the residents gathered the Pope, mainly off the cuff, said "life in Naples has never been easy, but it has never been sad! He continued by saying, "never let evil have the last word" urging them instead to focus on hope.
During this encounter with the community in Scampia, the Holy Father heard from three representatives who included Corazon, an immigrant from the Philippines. He told the Pope he was speaking on behalf of those from his community that are immigrants and are homeless and he asked Pope Francis to be an authentic voice them.
The Pope also heard from Michele, who spoke to him about the despair of those who can't find work. He told the Holy Father there are less and less people in his community who have a job before adding that, "we need to believe in the sacredness of work."
Speaking on behalf of the Prosecutors of Naples, Antonio Bonajuto, President of the Court of Appeal of Naples addressed the Pope describing the effects of corruption in society there saying, "it invalidates public ethics and generates juvenile delinquency, despair and death."  He then appealed to Pope Francis saying, "Indicate to us, Your Holiness, a path of hope to sustain the commitment of all those who pursue law and justice…"
To these three speakers the Pope offered words of hope and encouragement, saying that immigrants are not second class citizens, we are all, he said, "immigrants in the journey of life", we are all children of God.
The Pope also addressed the issue of unemployment saying that, it robs people of their dignity. He continued by denouncing the exploitation of workers, saying it was not Christian.
Tackling the subject of corruption, Pope Francis said that a corrupt society stinks (puzza), it is ugly and a Christian who succumbs to corruption is not a Christian.
Taking his leave of the community in Scampia, the Pope invited them to have the courage to travel on a road of hope, a hope he said, that is at the very core of Neapolitans lives, especially in their joy, their religion, and in their mercy. "