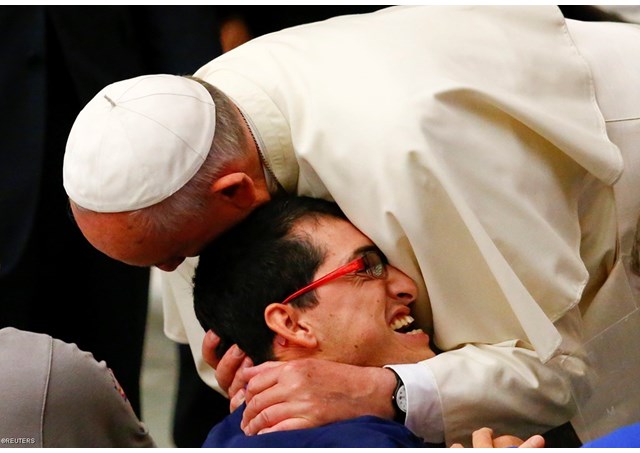 (Vatican Radio) The Extraordinary Jubilee Year of Mercy announced by Pope Francis gives Dominicans across the globe a double occasion to make 2016 a really special year.
Yes, because as Fr Vivian Boland OP, Vicar of the Master of the Dominican Order told Vatican Radio, members of the Order were preparing to mark 800 years since its foundation when Francis' announcement took them by surprise...
Listen:
Fr Boland says that "what struck us here is that this Extraordinary Holy Year will coincide almost exactly with the Jubilee year of the Order".
"We have been preparing to celebrate the 800 years since the confirmation of the Order in 1216 by Pope Honorius III, so this will add a wonderful extra dimension to our celebration next year of our own Jubilee".
He says the announcement reminds him of the beginning of Saint John Paul II's ministry as Pope and his first Encyclical, "Dives in Misericordia" which, he says, was a kind of flagship encyclical announcing his arrival, the beginning of his ministry in the Church, and Boland points out that Pope Francis is taking up that theme again.
Boland explains that the Preaching of the Order was always concerned with mercy which has always been part of the spirituality and theology of the Dominicans.
St Dominic and his first companions – he says – dedicated themselves to preaching and hearing confessions: these were the two ministries they undertook at the beginning, ultimately aiming to bear in people's lives the mercy of God.
He recalls St Thomas Aquinas' words on mercy and justice when he said that "a world that would be purely just would be a cruel world, that the world cannot continue, that human relationships cannot survive, that communities cannot endure if there is not also mercy: there has to be room for mercy, for compassion. An absolutely strictly just world would be a cruel world so there has to be mercy, compassion and forgiveness" he says.
So, Boland continues, in celebrating mercy we are not just celebrating a moral characteristic or a way of behaving, we are celebrating something that is fundamental to our very existence because the creation of the world itself originates in the mercy of God.
And continuing to refer to St Thomas, Boland says every divine action has its root in mercy.
Boland also brings the concept of mercy to the fore in the world today and says that looking around at the current situation you could say that "in this moment the world needs more than anything else an experience of the mercy of God, an experience of compassion, of mutual understanding, of a recognition of the simple humanity that we all share. And that whatever the differences there are between people, and the struggles for power and so on that go on, that in the end every human being needs an experience of mercy".
"If we are to enter the experience of what it means to be a human being, it can only be in terms of compassion, of mercy, of forgiveness" he says.