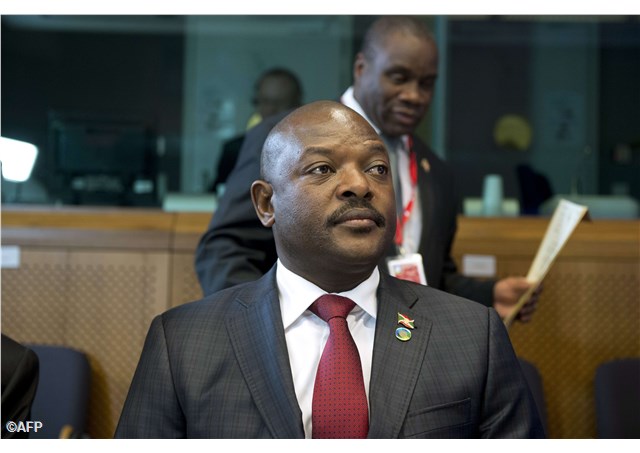 The Catholic Bishops of Burundi have said that the incumbent president should not stand for a third term in this year's June elections.
Speaking on Saturday Archbishop Evariste Ngoyagoye the Metropolitan Archbishop of Bujumbura said in a statement that, "We call upon politicians in power not to speculate or misinterpret the constitution. All the constitution provisions about the President's terms are very clear: no President can lead the country more than two terms of five years each,"
Burundi is caught in a dispute on whether President Pierre Nkurunziza, who has been in power since 2005, should be allowed to run for another term given that the former rebel leader was selected by lawmakers rather than voted into office in 2005 for his first term.
Under the constitution, he is allowed to serve only two terms but his supporters argue his first term should not count. President Nkurunziza himself has not yet said that he will run, although his supporters affirm he can.
"The peace deal signed by all political stakeholders in 2000 is also clear; it states that from now no President will rule for more than two terms," added Archbishop Ngoyagoye in the message issued by the country's episcopal conference.
Catholics in Burundi represent about 70% of the total population. The Archbishop's comments mark the first time the Catholic Church has taken a position officially on the debate about a third term for President Nkurunziza. The Church played a key role in peace talks in Burundi.
Archbishop Ngoyagoye said the Catholic Church will soon organise a novena across the country to pray for a peaceful handover between the current President and his successor.
Burundi's presidential office was not immediately available for comment.
Civil society organisations have already warned that they will call for street protests if President Nkurunziza, a Hutu, announces his candidacy for a third term.
The UN Security council will soon visit this landlocked country.  During the visit, its 15-member delegation will discuss with Burundi's leaders how to organise a peaceful and transparent election this year.
(Source Polity (SA)/Reuters)
e-mail: engafrica@vatiradio.va