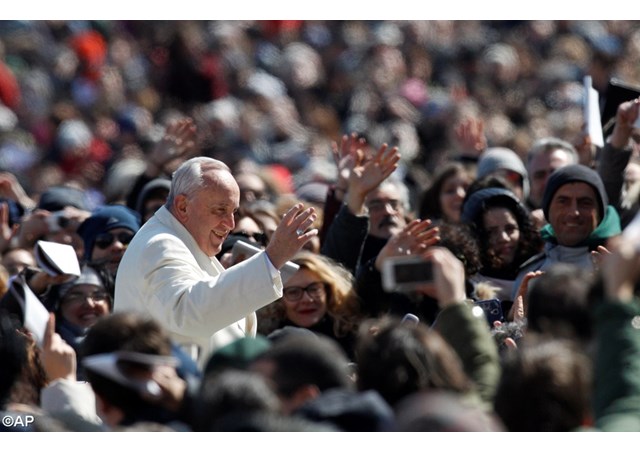 (Vatican Radio) Pope Francis received members of the Communion and Liberation movement – at least 80 thousand of them, from nearly 50 nations – on Saturday, in St. Peter's Square, to remember the group's founder, Msgr. Luigi Giussani, and to mark the 60th anniversary of the movement's founding.
Click below to hear our report
CL began in 1954 in Italy, at a secondary school in Milan that followed the classical curriculum, when Father Luigi Giussani started an initiative of Christian presence, to teach the basics of the faith to those who did not know them, primarily by lives of radical and radically authentic witness to the transformative power of Christ and the Good News of His resurrection in all areas of human endeavor, and down to the most intimate depths of each and every human soul. 
The name, Communion and Liberation, appeared for the first time in 1969: it brings together the conviction that the Christian event, lived in communion, is the foundation of the authentic liberation of the human person.
In his remarks to the members of the movement in St Peter's Square on Saturday, Pope Francis recalled that bringing those who most need it to an encounter with Christ is the central ethos of Communion and Liberation. "Centered on Christ and in the Gospel," he said, "you can be the arms, the hands, the feet, the mind and the heart of a Church that is 'out and about'."
The Holy Father went on to say, "The way of the Church is that of going abroad in order to seek out those who are far off, in the peripheries, to serve Jesus in every person who is marginalized, abandoned, without faith, disappointed with the Church, a prisoner of his or her own selfishness."