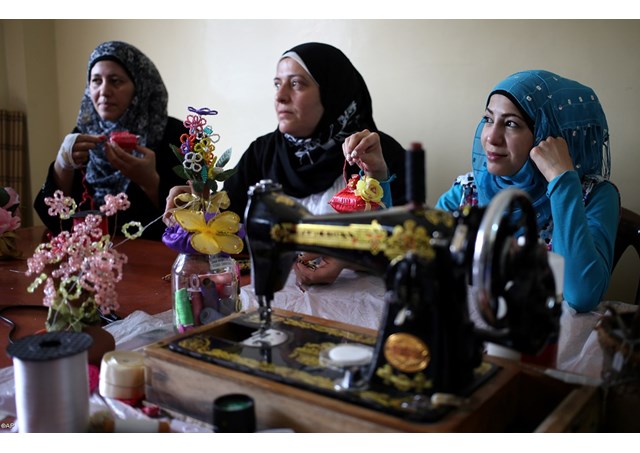 (Vatican Radio)  A self-help group of enterprising Syrian women refugees and a Caritas Nicaragua program empowering women to provide food for their families and become agricultural entrepreneurs, have been selected as winners of the first-ever "Women, Sowers of Development" prize awarded by Caritas Internationalis and Voices of Faith, an initiative sponsored by the Fidel Goetz Foundation that supports Catholic activities.
At a Rome press conference Thursday, Voices of Faith and Caritas announced the winners of the two 10,000 euro prizes which will be awarded at the second annual Voices of Faith storytelling event in the Vatican on Sunday, 8 March, International Women's Day.   
Chantal Goetz, founder of Voices of Faith said, "We are very happy to partner with Caritas Internationalis on this prize to recognise the best ideas of women. Women have practical ideas on how to meet everyday challenges, but are seldom given the opportunity to share them in a meaningful way. It is our goal to create more collaboration with Catholic organisations so that we can take advantage of each other's strengths and promote solutions that work."
Enterprising women winners of Sowers of Development prize
Reem Alhaswani, a Syrian refugee living in Lebanon, will receive one of the prizes on behalf of "Basmeh and Zeitooneh" (Smile and Olives), an independent project she helped create, giving hope to the many desperate Syrian and Palestinian refugee women who fled conflict only to find themselves alone with their children in a foreign country and no way of earning a living.
The association runs an embroidery programme and other projects that help refugee women in Lebanon support their families. It provides relief services and emergency items, psychological support for victims of domestic violence and organizes workshops on human rights.
"Women are our heroes," Reem told journalists Thursday.  "Experience shows us that women just need an opportunity to rise up…they need to feel the world hasn't forgotten them."
The second "Women, Sowers of Development" prize will be awarded to a Caritas project. The recipient, Caritas Nicaragua, has been working to empower rural women to grow more and healthier food for their families and to sell, giving them seeds, training, and irrigation systems like motorised pumps and hoses.
 "In communities where women are sometimes devalued, these women farmers have been able to change their lives for the better," said Juana Bertha Duarte Somoza, a Caritas Nicaragua staff member who accompanied farmer Alba Marina Rosales Ruiz to Rome for the Voices of Faith ceremony.
"The 'Women, Sowers of Development' award makes the work of women visible and empowers them to speak out for themselves," said Martina Liebsch, director of advocacy for Caritas Internationalis. "Women are using their talents and being valued for what they do. The prize money should encourage them to continue their journey to help themselves, their families and their communities. Hopefully other women will be inspired by their example."
Women's voices of faith in the Vatican
The two prizes will be awarded during Sunday's Voice of Faith storytelling event at the Casina Pio IV in the heart of the Vatican. Mary McFarland, one of the many female speakers who will address Sunday's event, shared with journalists highlights of her upcoming talk "From Teacher to Student to Teacher: A Living Conversation about Education in Refugee Camps".  McFarland, Founder and International Director of Jesuit Commons: Higher Education at the Margins, highlighted the impact that higher education can have on young people deprived of almost every resource.  Speaking of Suad, a Somali refugee graduate of one of JCHEM's programs, McFarland recounted how the young girl's family sacrificed food rations to be able to send the children to school.  Suad, she proudly related, went on to become the first female teacher in her refugee camp, later becoming a headmistress who increased the number of enrolled students from 300 to 1,600.
For detailed information about all the speakers participating at the Voices of Faith storytelling event, the program, and to access the live streaming, please go to www.voicesoffaith.org.
About Voices of Faith
Voices of Faith is a core initiative of the Liechtenstein-based Fidel Götz Foundation, whose work aims to enrich the lives of women and girls globally. The Foundation supports different initiatives within the Vatican and works with global Catholic organisations to develop and implement programmes that produce results. For more information about the FGF go to: www.fidelgoetzstiftung.com
About Caritas Internationalis
Caritas Internationalis is the official humanitarian and development organisation of the Catholic Church, dedicated to serving the poor and promoting charity and justice. Inspired by the Gospels and Catholic teaching, the more than 160 national members of Caritas Internationalis seek to promote peace between peoples, sustainable development, the right to food, safe migration, decent work and good health. www.caritas.org