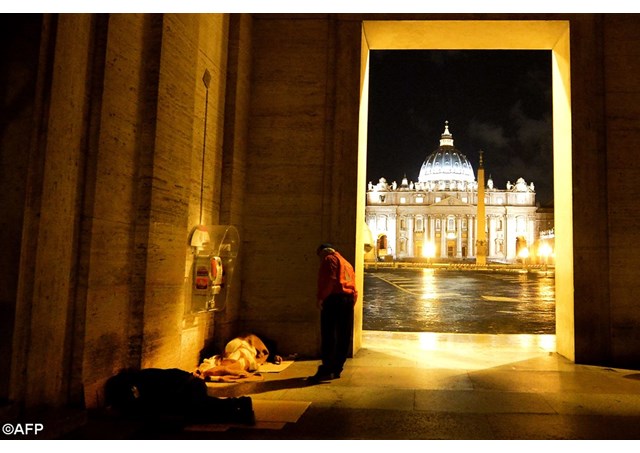 (Vatican Radio) The Holy See press office has confirmed the news of the burial of a homeless man in the Teutonic College cemetery within Vatican City State. Willy was a homeless man of Flemish origin.  His exact age was unknown but he was believed to have been around 80 years of age. He died on  December 12 last year and was buried in the Teutonic Cemetery on January 9 this year. 
Listen: 
Willy was a familiar face to many in the area of the Vatican. He attended daily Mass in  Sant'Anna parish in the Vatican and spent his days and nights on the streets around St. Peter's Square, Borgo Pio and Via di Porta Angelica.
The pastor of Sant'Anna in the Vatican, Father Bruno Silvestrini, had dedicated the Nativity Scene at Christmas to Willy, adding a homeless man among the shepherds. He loved to pray, he had a good heart, attended the morning Mass at St. Anna every day and always sat in the same place.
"For over 25 years he attended the 7:00 Mass", Fr. Silvestrini told Vatican Radio, explaining why he wanted a homeless among the shepherds in the Nativity Scene. "He was very, very open and had made many friends. He spoke a lot with young people, he spoke to them of the Lord, he spoke of the Pope, he would invite them to the celebration of the Eucharist. He was a rich person, of great faith - said the pastor of St. Anne who added - there were prelates who brought him food on certain days. Then, we no longer saw him, and subsequently we heard about his death. I've never seen so many people knocking on my door to ask when the funeral was, how they could help to keep his memory alive ... He never asked for anything, rather he was the one who would strike up a conversation and through his questions of faith, suggest a spiritual path to those with whom he spoke".
Willy died in Holy Spirit hospital, where he had been brought by ambulance on a cold December evening. The cold had caused him to collapse and some passers-called for the emergency services. He died on December 12, but his body remained at the hospital morgue because no one could identify him.
When those used to seeing him on the streets noticed his absence and began to search for him he was finally traced to the hospital in Lungotevere in Sassia on the banks of the Tiber.
The costs of his funeral were covered by a German-speaking family, the funeral was held in the chapel of the Teutonic Cemetery, and Willy was buried in the old Germanic cemetery, in Vatican City State.