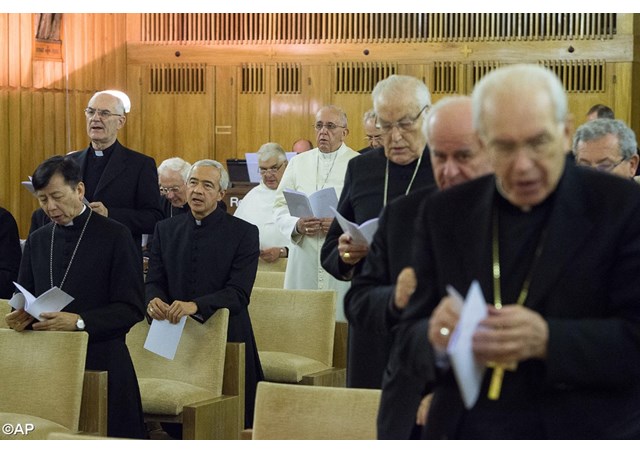 (Vatican Radio)  Pope Francis prayed on Friday (February 27th) for persecuted Christians in Syria, Iraq and throughout the world during Mass celebrated on the final day of the Lenten retreat attended by him and members of the Roman Curia. The spiritual exercises began last Sunday (February 22nd) and took place in the Casa Divin Maestro centre in the town of Ariccia near Rome. In brief remarks at the conclusion of the retreat before returning by bus to the Vatican on Friday morning, the Pope thanked Carmelite Father Bruno Secondin for leading the spiritual exercises with them.  
Listen to this report by Susy Hodges: 
Please find below a translation into English of the Pope's remarks to Father Secondin:
"On behalf of all of us, I too would like to thank the father for his work among us during the spiritual exercises. It's not easy to give exercises to priests, right?  We're a bit complicated, all of us, but you succeeded in sowing seeds. May the Lord make these seeds that you have given us grow and I also hope that myself and all the others can leave here with a piece of Elijah's cloak, in our hands and in our hearts. Thank you father!