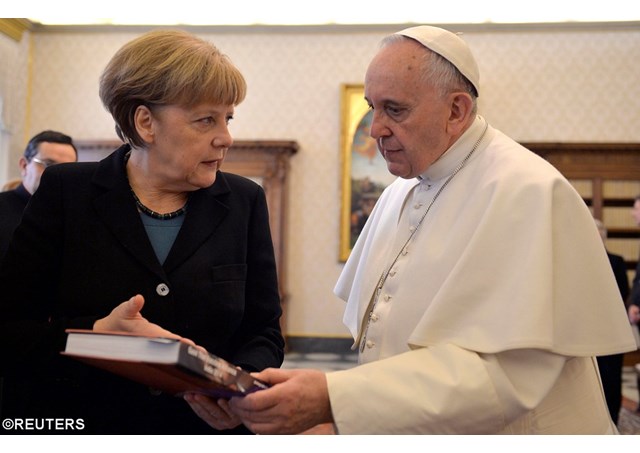 (Vatican Radio) Pope Francis on Saturday  received German Chancellor Angela Merkel in private audience in the  Vatican. 
Listen: 
An official  communiqué said the cordial exchange between the two leaders focused on the fight against poverty and international crises, including the conflict in eastern Ukraine.
It also revealed that the wide-ranging talks touched on topics such as the alleviation of poverty, the role of women in developing countries, equality, and Germany's agenda for the upcoming G7 Summit in the southern German state of Bavaria in June.
Following the audience Merkel told journalists that the conflict in eastern Ukraine was at the center of the discussion with the Pope.
She reportedly said he gave her "a lot of encouragement" to proceed "decidedly and determinedly" to find a peaceful solution. 
Pope Francis presented Merkel with a medallion depicting St. Martin giving his coat to the needy, saying it aimed to remind world leaders their job is "to protect their poor."
On her part. Merkel gave the Pope a CD with music by Johann Sebastian Bach and a donation to help children affected by conflicts in the Middle East.
Following her audience with Francis, the second since the beginning of his Papacy, Merkel met Vatican Secretary of State, Cardinal Pietro Parolin, accompanied by Vatican Secretary for Relations with States, Archbishop Richard Gallagher.