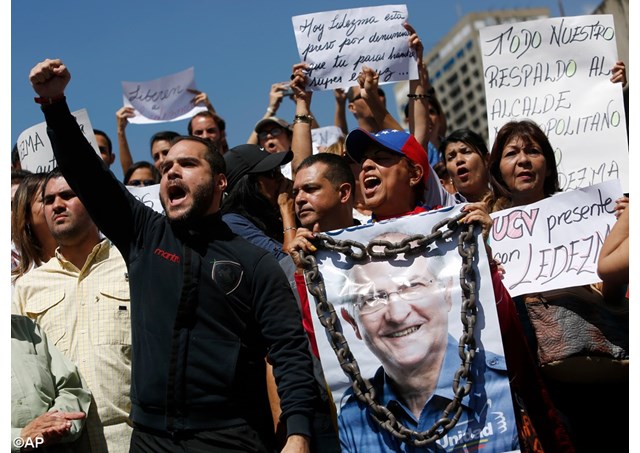 (Vatican Radio) Concern is growing nationally and internationally about the arrest and charges levelled against the Mayor of Venezuela's Capitol Caracas.
He is accused of plotting to overthrow the Government of President Nicolas Maduro. 
Listen to the report by James Blears: 

 
Police in camouflage fatigues forced their way into the office of Caracas Mayor Antonio Ledezma, arrested him and dragged him away.  
The Attorney General's Office confirms that he's been formally charged with conspiracy to commit acts of violence against The State.  
It also rules that he'll stay in a military prison. 
President Nicolas Maduro has publically accused him of being a key player in a US inspired, coup attempt against him.  Washington is condemning this arrest as intimidation and an attempt to stifle democratic oppostion. 
Oppostion Leader Henrique Capriles, who narrowly lost the Presidential Election in April 2013 to Nicolas Maduro, stresses that Maduro won't gain popularity by jailing people.
 
Another oppostion leader, Leopoldo Lopez, was arrested a year ago accused of similar crimes, which he denies. He too is in a military prison. 
In January Andres Pastrana and Sebastian Pinera - the former Presidents of Colombia and Chile - who were visiting Venezuela for a democracy fórum, were denied permission to visit Leopoldo Lopez in jail.  
President Maduro accused Pastrana and Pinera of taking part in a coup against him. 
From February to May last year more than 40 people died throughout Venezuela in mass protests, against crumbling infrastructure, an economy in crisis, soaring inflation and rampant crime.  
With tumbling international oil prices, if anything, the situation right now is even worse.