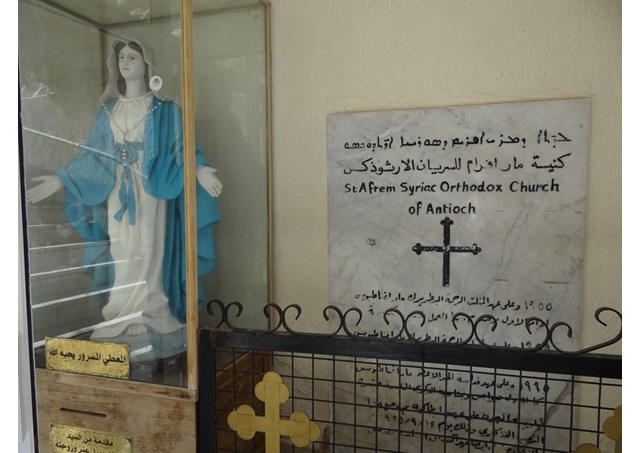 (Vatican Radio)  "You have 48 hours to convert or you'll be killed."  That was the grim threat handed down by so-called Islamic State militants to Christians in Iraq's second biggest city, Mosul in the late summer of 2014.  The stark warning was still fresh in the minds of a group of Iraqi Christians whom Tracey McClure met on a November trip to Amman to see Caritas Jordan's outreach to tens of thousands of Syrian and Iraqi refugees fleeing conflict at home. Their suffering and their circumstances endure today.  She filed this report:
It was a crisp sunny day and I was visiting St. Ephraim's Syriac Orthodox Church in a modest neighborhood in Ashrafieh, Amman.  The Church has transformed its parish hall into emergency housing:  52 Iraqi Christians, including 13 kids ranging from 6 months to 15 years old are living in cramped cubicles fashioned out of sheets and boards.  One family with an epileptic child has been given a separate room to themselves out of respect for their challenging needs. 
Some of the Christians had arrived August 24th from the northern Iraqi town of Erbil after fleeing Mosul and Qaraqosh.  Others had found their way to Amman in mid-October.
Tales of fear
"ISIS scribbled an 'N'– meaning 'Nazarene' on all of our homes and businesses," one woman tells me.  "It meant they were now the property of 'Daesh,' (the Arabic name for Islamic State)" she explains.
Men and women crowd around me, eager to tell their stories.  No one wants his or her photo taken, and no one wants his name to appear in print.  "What are you afraid of?" I ask. "You are in a safe place, in a safe country, here in Jordan."
"Everything!" another woman exclaims.  " If we go back to Iraq, we will see the same people as before, the same people we worked with! Our neighbors have moved into our homes!"
A 32 year old woman wearing glasses tells me she is a pediatrician.  Since the Gulf War broke out in 2003, she says, Christians have been fleeing their homes in fear of violence and persecution and moving  back again when times seemed better.  "How long must we keep moving from one place to another?" she demands, knowing I have no answer.
Christians, another woman says, have been subjected to kidnappings for ransom, their possessions stolen and businesses ransacked. 
The pediatrician gazes at the children gathered round us; some stare up at us with piercing blue eyes.
"After 2003 I would go to work wearing the hijab headscarf – especially during the Muslim feast of Ramadan," she frowns.  In a climate of increasing religious intolerance, Christian women in Iraq felt especially vulnerable.
The pediatrician was afraid to go to Mosul's main church which lived under daily threats of bombings and attacks - preferring, she says, to attend mass in smaller, "out of the way" churches.  "Slowly, the threats and episodes of violence  against Christians," she sighs, "became more frequent."  Local Muslims would try to justify such incidents by calling them random acts, and even Christians themselves, she says, at first saw them as isolated crimes – but now, she explains, "they are the norm."
An appeal to Pope Francis
We are outside, in the shade of the parish entrance, and I shiver. The feeling around me is bitter.  A man in his thirties joins in: "The Pope has spoken out about the plight of Christians in the Middle East but we have seen little help from anyone."
"Christians will be extinguished in Iraq !" he exclaims.  "Even if Daesh is vanquished, Christians will not return there even though it has been our home for two thousand years."
Pope Francis, he says, should speak to the United Nations and "influence the international community to take action" to protect the Middle East's Christians.  But, he pauses to admit, Pope John Paul II couldn't stop the outbreak of war in Iraq.
Small tokens of lives gone terribly wrong
Inside the parish hall, I peer into the dark recesses of people's makeshift homes.  Shoes are left neatly at the curtained entrances; mattresses and pillows line the paper-thin walls that divide one family's cubicle from another's. 
There's dignity, and order, in these small tokens of lives gone terribly wrong.
I can feel the biting cold of the cement floor through the soles of my shoes but I see the refugees have bare feet or open sandals on – the last things they were wearing when they escaped Mosul last August.
Caritas cares
In the fall, Christian churches across Jordan immediately mobilized to receive the some 4,000 Iraqi Christian refugees arriving in the country. Caritas Jordan helped them readapt parish halls like St. Ephraim's into temporary housing.  "Temporary" is a euphemism to many who tell me that registering with the United Nations' refugee agency and requesting asylum in another country is a process that can last years.
As in the other parishes, Caritas has assigned a field worker to St. Ephraim's Christian refugees; his name is Razak and he stays with them all day, remaining on call for problems at night.  He plays football with the men and boys and calls them "his buddies."  Razak explains that besides providing bedding, towels and hygiene kits, Caritas Jordan supplies food and the gas needed for heat and to cook. He assures me the refugees would soon be receiving vouchers to purchase winter coats and shoes.
Two ladies are in the small kitchen preparing lunch – I squeeze into the cramped quarters to peer at a chart hanging on the cupboard.  It's all Arabic to me – I ask Razak to help decipher it.  "Those are the names of the women who take turns cooking the meals and washing up during the week," he explains, introducing me to Maria and Teresa bustling round the stove and sink.
And the men?  I wonder aloud.  Razak tells me two men are responsible for communal needs, electrical problems, and distributing the water that is delivered twice a week.  The resource is strictly rationed in Jordan because water is so scarce.  There are only two toilets and one shower for all 52 people and bathing and laundry can only be done on Mondays and Tuesdays when the water comes.
Jordanians, Christians and Muslims alike I'm told, have come to their aid, donating clothes and furniture.  But though they are treated with decency by the local community, the Christian Iraqis feel like strangers in a foreign land.
Razak takes me upstairs where more families are living.  One middle aged Syriac Catholic woman tells me she is from Hamdanieh in Iraq's Ninevah Plains.  At St. Ephraim's she and her family of ten, including two married children, their spouses and kids, live in one room.  Her name is Sarah and she suffers from lymphatic cancer.  Caritas, and not the U.N. agencies, she makes a point of telling me, helps with the expense of her costly chemotherapy treatment. 
On the wall of the room, I spy framed photographs of Iraqi Church leaders, Pope Francis and Mother Teresa and what looks like a painting of St. Paul blinded by God's eternal light on the road to Damascus.  Cherished mementos that speak of the ancient Christian witness in these lands of the Middle East and a solemn reminder that without the region's Christians, we all stand to lose a little bit of our soul.