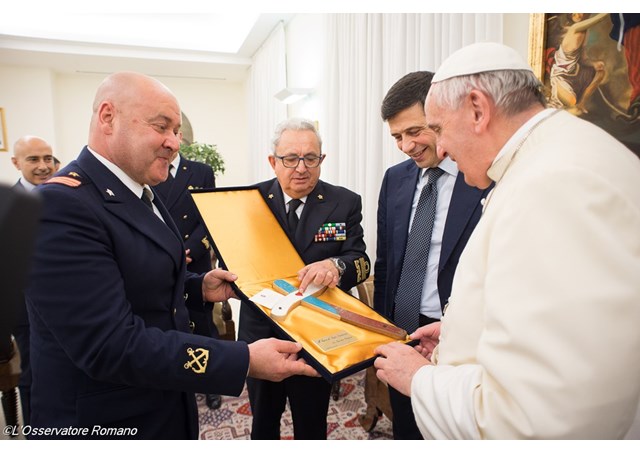 (Vatican Radio) Pope Francis welcomed a delegation from the Italian coastguard to Casa Santa Marta Tuesday evening, two days after a massive operation saw them rescue a record 2,000 migrants and refugees from the sea between Italy and Libya.
The Pope met with the group of eight people for forty-five minutes.  The Holy See press officer, Fr. Federico Lombardi, reports that during the meeting the members of the coastguard told the Pope about their concrete experiences in a dialogue which Fr. Lombardi described as 'moving and inspiring'.
Pope Francis in turn expressed his heartfelt appreciation and thanks to the men and women for their courageous service and dedication in favor of people in dire need.
Just two days before the meeting with the Holy Father, the Italian coastguard rescued more than 2,000 migrants in difficulty between the Italian island of Lampedusa and the Libyan coast. The worsening security situation in the North African nation has led to a new wave of men, women and children seeking to get to Europe, despite the dangers of placing themselves at the mercy of traffickers.
In fact, during the rescue operation the Italian transport ministry reported that the coastguards were threatened at gunpoint by four men who approached them by speedboat from the Libyan coast.
Only a week earlier an estimated 300 people are feared to have died when four dinghies, each carrying about 100 people, overturned during stormy weather as they attempted to make the crossing from the Libyan coast.  The youngest victim was just 12 years of age.