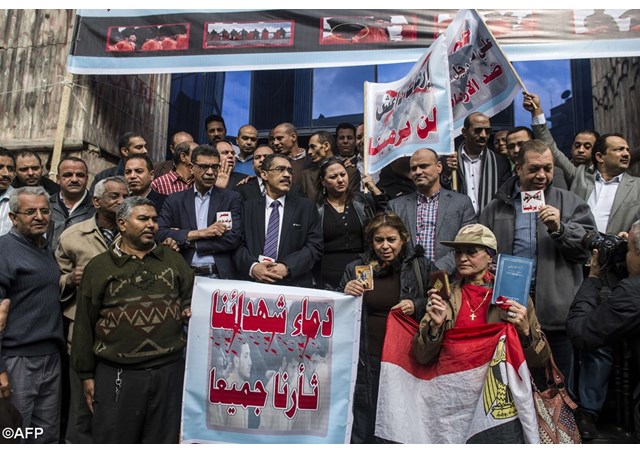 (Vatican Radio) The 21 Coptic Christians killed by Islamic militants in Libya were "very poor people, but very near to God," said Fr Rafic Grieche, spokesman for the Catholic Church in Egypt.
"[These men] were not theologians, they were not people who even read the Bible or can read…but they have this faith and were brave," he said in an interview with Vatican Radio.
Listen to the interview by Andrew Summerson:
Fr Greiche explained 17 of the men killed by the militants were from village of Samalut in Minya, and three others were from a village nearby. The men went to Libya as migrant workers to support their families.
"Two of these men did not even see their babies who were delivered during their kidnapping," said Fr Greiche.
Among the martyrs was a man from Chad, who Fr Greiche said had converted to Christianity because of the faith he witnessed in the Coptic Christians who had been taken captive.
"He found his faith when he saw the face of the other Egyptian Christians, he didn't want to leave," he said. "He wanted to be a martyr like them."
Fr Greiche said the tragedy has unified the Egyptian people. All Egyptians—Christians and Muslims—now consider the 21 victims to be martyrs, he continued. President Abdel-Fattah El-Sisi has declared seven days of national mourning for the country and suggested to Pope Tawadros, the head of the Coptic Orthodox Church, that a Church be dedicated to the martyrs.
On the ground, Fr Greiche said Egyptian journalists were especially touched by Pope Francis' words, who spoke with emotion this week about an "ecumenism of blood" and expressed his closeness with the Coptic Christians. Pope Francis personally offered his condolences to Pope Tawadros in a phone call Monday evening.
Fr Greiche underlined that the main speaker in the video said:  "We are in Libya in the south of Europe and Rome." Fr Greiche cautioned that "this means the Vatican and the centre of…Western Christianity."
He encouraged Christians to pray for peace and to offer charity and education to those countries ravaged by the wave of terrorist violence.