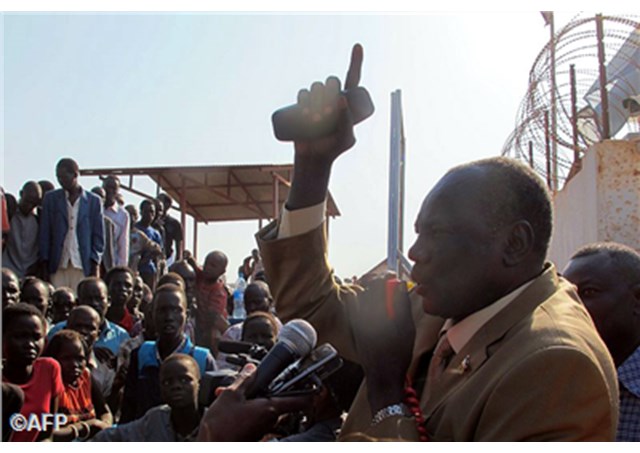 In what has been described as a growing and widening media crackdown, South Sudan's Information minister and government Spokesperson on Monday issued a warning that he would shut down the United Nations' Radio Miraya in Juba for broadcasting views of South Sudan's rebels.
Makuei stunned journalists at a press conference in Juba when he issued the warning, "Miraya, you are interviewing rebels... We are shutting you down if you interview any (more) rebel here to disseminate his or her plans and policies within South Sudan," said Makuei.
CRN has made available to Vatican Radio the news of the minister's warning. The Information minister, Michael Makuei Lueth said he would put into writing his warning to the UN's Radio Miraya. He said he was not afraid to close down the UN radio station. The UN radio station broadcasts from within the UNMISS base in Tongping, Juba.
Makuei vowed that the government would continue cracking down on media outlets as long as they continued giving coverage to opposition rebel fighters of that country. The Information minister said that the South Sudanese government would not tolerate local media outlets voicing what he termed as "divergent views of agitation."
According to the renowned international Committee to Protect Journalists, Press freedom in South Sudan has deteriorated significantly since the country gained independence in 2011.
Adding to a growing list of examples of media intolerance by the government, the South Sudan's National Security Service (NSS), early this month, seized the print run of Juba's Nation Mirror newspaper and ordered staff to cease operations because they had published "anti-government articles".  Government agencies then proceeded to shut down the paper indefinitely.  
Although South Sudan's rebels don't fare any better when it comes to treating journalists, analysts now believe that the media crackdown in South Sudan is fast beginning to resemble the oppressive tactics of Khartoum in the North.
e-mail: engafrica@vatiradio.va)