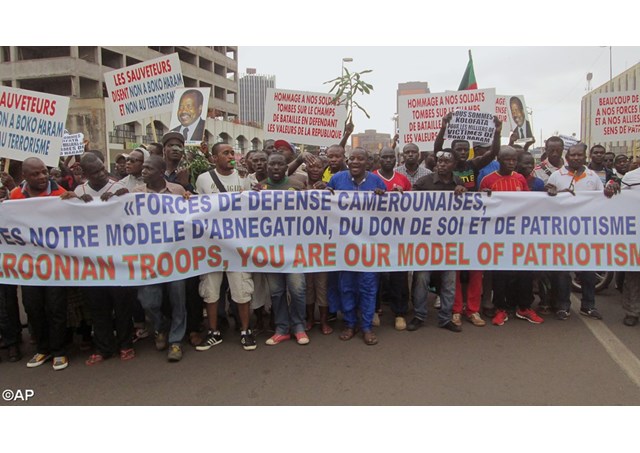 Thousands of Cameroonians marched this weekend Saturday in Douala, the commercial capital of Cameroon, in support of the Cameroonian army which is confronting the Nigerian Islamist terrorists, Boko Haram.
Adopting the French slogan,  "Je suis Charlie" which became synonymous with resistance against the  7 January 2015 Charlie Hebdo attack, Cameroonians declared,   "Je suis Fotokol."
On 4 February this year, Boko Haram, in a gruesome attack, killed scores of villagers in Fotokol. The Cameroonian minister of Defence put the number of those killed at 81. Residents of Fotokol said the number was much higher.  
Fotokol is a Cameroonian town in the far North of the country. The town is about 300 metres across a small river from the Nigerian village of Gamboru. Cameroonian Soldiers were deployed to Fotokol in 2014 to provide security for residents and allow children safely attend school.
The Saturday marchers in Cameroon carried placards praising the army and calling for peace.
Organisers of the march said they had invited Cameroonians to write messages of solidarity and support that would be sent to the troops on the frontline. "I wrote a letter to the soldiers. I just told them that they are in my thoughts and I assured them of my prayers and support," said Nelly Nyake, a high school student.  She also said, "I hope that God protects them as they fight to defend our nation."
Similar demonstrations and marches in other cities were planned. 
(e-mail: engafrica@vatiradio.va)