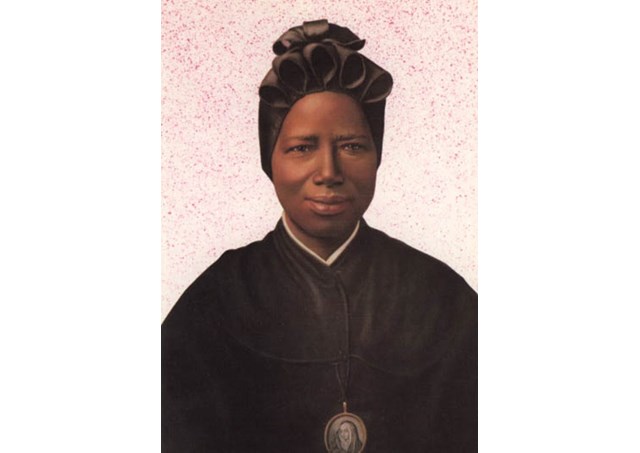 Saint Josephine Bakhita was born in Sudan's embattled Darfur region in 1869 and died in Schio (Vicenza, Italy) in 1947. This African flower knew the anguish of being kidnapped and slavery. She is the patron saint of Sudan. Saint Bakhita is also often promoted as a patron saint for the victims of slavery and trafficked persons.
Mother "Moretta"
In Schio (Vicenza), where she spent many years of her life, everyone still calls her "our Black Mother". The process for the cause of Canonisation began 12 years after her death. In the year 2000 she was declared and canonised a saint by Pope St. John Paul II. 
In Slavery
Bakhita was not the name she received from her parents at birth. The fright and the terrible experiences she went through made her forget the name she was given by her parents. Bakhita, which means "fortunate" was the name given to her by her kidnappers.
Kidnapped at the age of 9, she was sold and re-sold in the markets of El Obeid and of Khartoum. She experienced the humiliations and sufferings of slavery, both physical and moral.
Towards freedom
In Khartoum the capital of Sudan, Bakhita was bought by an Italian Consul, Callisto Legnani. In the Consul's residence, Bakhita experienced peace, warmth and moments of joy, even though veiled by nostalgia for her own family, whom, perhaps, she had lost forever.
Political situations forced the Consul to leave for Italy.
In Italy
On arrival in Genoa, Mr. Legnani consented to leave Bakhita with the Zianigo family (near Mirano Veneto). Eventually Bakhita was temporarily entrusted to the Canossian Sisters in Venice. It was there that Bakhita came to know about God whom "she had experienced in her heart without knowing who He was" ever since she was a child. "Seeing the sun, the moon and the stars, I said to myself: Who could be the Master of these beautiful things? And I felt a great desire to see him, to know Him and to pay Him homage..."
Daughter of God
After several months as a catechumenate, Bakhita was baptised and given the new name, Josephine on 1January 1890. When Mrs. Michieli Zianigo returned from Sudan, Bakhita with unusual firmness and courage, expressed her desire to remain with the Canossian Sisters and to serve that God who had shown her so many proofs of His love.
Witness of love
On 8 December 1896 Josephine Bakhita was consecrated forever to God whom she called with the sweet expression "the Master!"
For another 50 years, this humble Daughter of Charity, a true witness of the love of God, lived in the community in Schio, engaged in various services: Cooking, sewing, embroidery and attending to the door.
Final test
As she grew older Bakhita experienced long, painful years of sickness.  During her agony, she re-lived the terrible days of her slavery and more than once she begged the nurse who assisted her: "Please, loosen the chains... they are heavy!"
It was Mary Most Holy who freed her from all pain. Her last words were: "Our Lady! Our Lady!" and her final smile testified to her encounter with the Mother of the Lord.
Saint Bakhita breathed her last on 8 February 1947 at the Canossian Convent, Schio, surrounded by the Sisters. A crowd quickly gathered at the Convent to have a last look at their «Mother Moretta» and to ask for her protection from heaven.  The fame of her sanctity has spread to all the continents and many are those who receive graces through her intercession.
Source: www.vatican.va
(e-mail: engafrica@vatiradio.va)