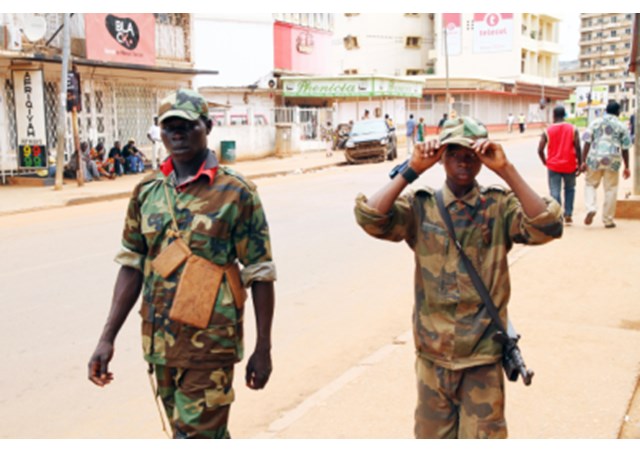 "I joined twice, because I had nothing to do," explains Pierre, a 17-year-old former child solider. "The first time was in 2006. The recruiters in the camp promised me food, a job, and a military career. It didn't take much to get me to go into the bush and try my luck."

A humanitarian organisation found Pierre two years later and sent him back to a camp for the internally displaced persons (IDPs). When asked which organisation, Pierre shrugs, "white people."

While he was happy to be back amongst his family, he still had nothing to do and no way of earning money.

"It didn't make sense to go back to school," he explained. "I was too far behind."

With no job and little to eat, Pierre joined another armed group in 2011, where he received four months military training and then was told to participate in active duty. He finally left when he heard of some new vocational classes in the camps.

"I can learn carpentry and maybe sell some things," he says hopefully.

Pierre's story runs counter to the classic depiction of child soldiers. He was not abducted. Rather, he chose to go into the bush and join an armed group. This does not discount children who are abducted, nor does it trivialise Pierre's difficult experience. It adds a more nuanced understanding to the motivations behind enlistment.

Joining an armed group is seen as a way out. In situations of extreme poverty, with limited job opportunities and insecurity, militia can provide protection, food and a surrogate family.

"At the end of the day, it comes down to the type of future offered to children in the camps," explains Francisca Sendegeya, Jesuit Refugee Service Project Officer in Mweso, a district plagued by conflict in eastern Congolese province of North Kivu.

"If children feel there is no future for them in the camps, they leave for the bush."

Childhood enlistment is a depicted as a process that robs children of their innocence and forces them to grow up too soon. Yet this idea is based on a western childhood, i.e. an idyllic time free of adult responsibilities. 

This childhood is a far cry from what many children experience in IDP camps in the Congo. Many IDP families rely on subsistence farming and expect their children to contribute via manual labour. Furthermore, forced displacement makes it easy to exploit ethnic diversity, and children are easily manipulated into ridding 'the other' from their communities. Under such circumstances, families encourage children to enlist to both defend the village, as well as feed themselves. 

Luc, a compatriot of Pierre, explained, "my family encouraged me to join. They wanted me to protect the villagers from the marauders. Also, there were too many kids, and not enough food to go around."

This reality calls into question the type of policies needed to combat childhood recruitment. The Congolese government, the United Nations and NGOs have taken enormous strides in combatting the recruitment of child soldiers in Congo. Most notably through the signing of the 2012 Action Plan to end child recruitment associated with Congolese armed forces and security services. Then, on 11 February 2014, the Congolese parliament granted amnesty for acts of insurgency, while excluding those guilty of recruitment of under-18s.

Yet these top-down policies must be accompanied by measures to strengthen communities ravaged by conflict, including providing socio-economic and educational opportunities for children.

Sponsoring vibrant communities means creating educational and vocational programmes that match local needs, encouraging children to remain in school through creating tangible ways of succeeding, and providing safe learning spaces away from ethnic tension, violence and recruitment endemic in the area.

Community members should be asked about what they see as the value of education. It is hard to see the benefit of schooling when you struggle to feed your family. Consulting community members could create a curriculum that helps camp and local residents, as well as inspires families to keep their children in school. 

School programmes should be changed to reflect rural realities rather than present a typical 'western' education, such as creating a schedule to reflect agricultural demands and including more practical courses. 
Finally, more communal spaces should be created for cultural expression and sport, both extra-curricular and community-run. These create safe spaces for reconciliation, as well as a stronger sense of local solidarity.
Pierre and Luc left the bush when they believed there were viable alternatives. They have a long way to go, and the carpentry class is in no way a panacea, but it is a start.

(Caitlin Hannahan, Communications Officer, Jesuit Refugee Service Great Lakes Africa)