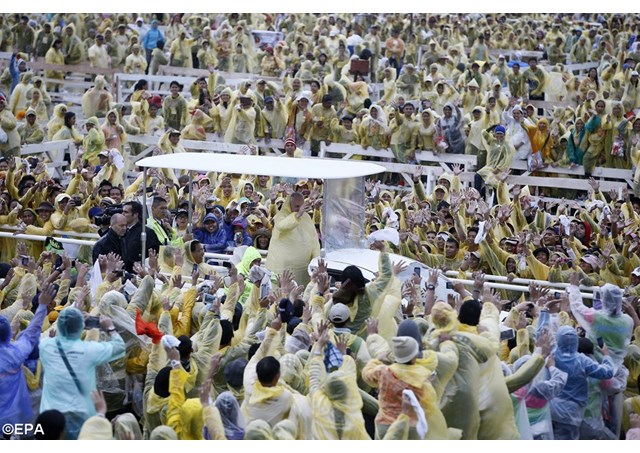 (Vatican Radio) In the Philippines, it never rains – it pours. And, in Tacloban – it storms. It was here that, on November 8th 2013, the six-metre high waves generated by Super Typhoon Yolanda, the strongest storm ever recorded on earth, smashed into the homes and lives of thousands of people leaving behind death, destruction, tragedy and loss.
Click below to hear this report from Sean-Patrick Lovett
And it was here, at Ground Zero, that Pope Francis chose to come, in the driving wind and rain, despite last-minute warnings to call off the visit entirely. Not that the local survivors ever doubted he would come: protected only by flimsy yellow raincoats (umbrellas were forbidden for security reasons), many of them started lining up outside the Mass site as early as yesterday afternoon. As a simple gesture of solidarity, the Pope himself wore the same yellow raincoat for the rest of the time he was there.
But it was what he said (and left unsaid) that went straight to the hearts of those present. Once again, Pope Francis departed from his prepared homily – this time altogether – in order to speak "heart-to-heart". And his message was simple: even amidst the greatest challenges and tragedies, "Jesus never lets us down… He walks with us in the most difficult moments of life". Most touching, though, were the passages when the Pope admitted that he himself was without words: "So many of you have lost everything", he said. "I don't know what to say to you. But the Lord does. Some of you have lost part of your families.  All I can do is keep silence and walk with you all with my silent heart... Many of you have asked: why Lord?  And to each of you, to your heart, Christ responds with his heart from the cross. I have no more words for you".
The fact is, he didn't need any. The testimony of his presence among them was enough.
The Pope also had no more time. Shortly after Mass, he was told his plane would have to leave almost immediately because weather conditions over the area were intensifying and would soon make take off impossible. But Pope Francis was determined not to disappoint. He knew perfectly well that people had travelled hundreds of miles and waited hours in the rain to see him. So, skipping lunch,  he did meet survivors and victim's families in the Archbishop's house and then went straight to the Cathedral where he stopped just long enough to explain why he had to leave in such a hurry, and to give his blessing.
When he did leave, it was with a clear message from the people of Tacloban themselves:  they are ready to move on. Inspired, consoled, encouraged by his being among them, they are picking up the pieces and rebuilding their towns and their lives. One of those pieces is  a battered brass trombone. I wonder if you heard it being played during the papal Mass? It belongs to 20 year-old Gibson Pineda and it's the only thing he was able to save when the typhoon swept away his house, friends and family. He calls it his most precious  possession. It's also his only possession.
Finally, another sign of the lasting effect of the Pope Francis' visit to Tacloban is the fact that over the past 48 hours, six new-born babies (boys and girls) have been given his name. And I have no doubt that number will increase exponentially over the next few days.